Online lead generation software is a powerful engine that enables businesses to engage customers, boost their marketing campaigns, and build effective sales funnels. It eliminates the need to develop separate tools to send lead capturing emails, show website contact forms, track social media visits or conversions, and complete a range of other critical tasks.
A continuous lead generation process is essential to supply your business with potential customers and grow profit. Ideally, you should develop a lead generation funnel that automatically walks customers through the conversion path. This way, you will get a sustainable source of website leads and enjoy easy customer relationship management.
To help you choose the right lead generation software, we have completed an overview of TOP 34 best lead generation tools. Note that this list isn't a rating, so feel free to spend some time and familiarize yourself with different software systems.
What is a Lead and Lead Generation Process?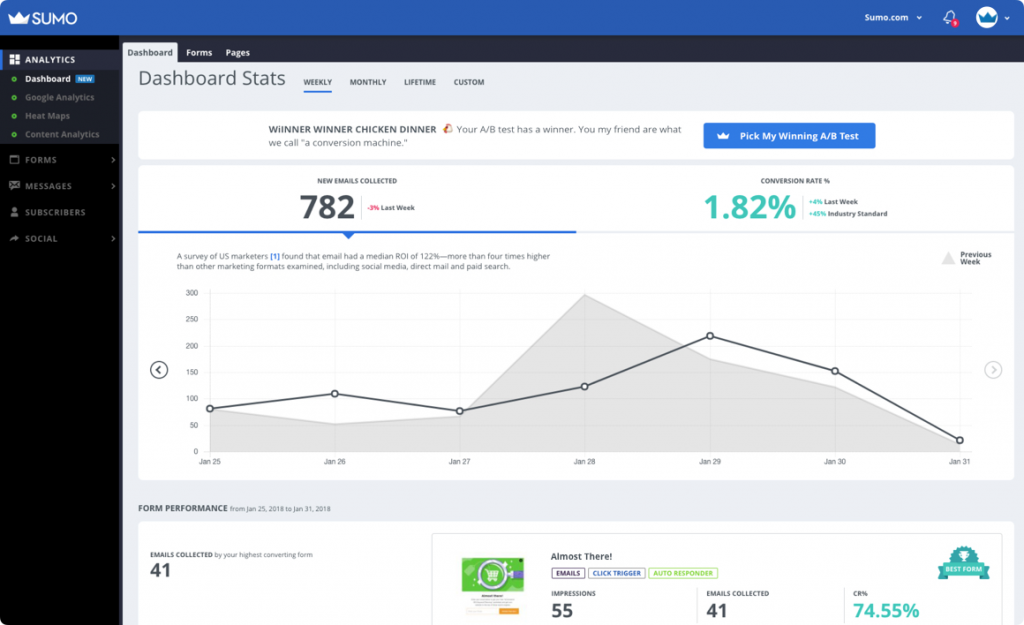 As always, let's start with the basics.
A lead is someone who has shown interest in your website, product, or service. This is a person that, for example, has found your profile on social media and decided to subscribe or visited your website after getting an email. In fact, lead generation options are extremely diverse and depend on the type of marketing channels you use for business promotion.
Lead generation is the process of attracting new people to enrich your customer database. Their contact details and other relevant information is added to a marketing software system or contact management tool to nurture the leads and make them convert.
What is Lead Generation Funnel?
Lead generation funnel is a sequence of stages that allow businesses to nurture leads and turn them into paying customers. A quality lead generation funnel is impossible to build without advanced automation software that tailors marketing communications to each lead based on their personal attributes.
Here is a popular scheme used to illustrate the stages of the lead generation funnel.


Each step of this lead generation funnel makes a freshly acquired lead closer to becoming a customer of your business.
Awareness. Use SEO, paid ads, social media marketing, and content marketing to generate website traffic.
All names. Include all potential leads to your database.
Engaged. Encourage users to interact with your website (e.g. watch a webinar, subscribe to a newsletter, etc.) or social media to engage them and turn into leads.
Prospect and recycled. Perform lead scoring of the collected leads to find out who you should focus on.
Lead. Qualify the leads with high scores for further marketing. At this point of the funnel, the sales team usually starts working with leads.
Recycled. Add leads that are still not ready to buy into your recycled leads database and continue nurturing them with educational materials.
Sales lead. Ask the account executive to evaluate if the person is a sales lead or needs additional nurturing.
Opportunity. Continue engagement and opportunity marketing.
Customer. Voila! You have turned a lead into a customer.
Of course, in reality, the lead generation funnel includes many other interconnected efforts. Luckily, they are easy to implement and integrate with the right marketing strategy and advanced marketing software.
So What Exactly is Lead Generation Marketing and why SEO Matters?

Lead generation marketing is the development of a multifaceted marketing strategy focused on lead generation. This strategy determines the most effective ways to grow website traffic, capture leads, score them, nurture, and turn into customers.
Since different marketing channels are suitable for different stages of the lead generation funnel, it's necessary to plan everything. A quality marketing strategy allows businesses to smoothly convert leads into customers in a planned and organized way. Disparate marketing efforts cannot ensure the same result.
Interestingly, SEO (search engine optimization) is considered one of the most effective ways to generate leads. It brings 14% of B2B and 15% of B2C leads.
But what makes SEO software so good for capturing new leads?
First all of, decent website SEO ensures steady traffic to your web page. After an initial investment in page and content optimization, you get a long-term source of organic traffic. Secondly, your website will be visited by high-quality leads that are likely to convert. They open the website that matches a specific query and know what they want. Besides, SEO helps to increase your brand authority and trust, which are crucial in customer relationships.
The Importance of Lead Generation for Business Growth

The success of any business depends on its continuous development and market expansion. Simply put, if you don't engage a customer, your competitor will. Therefore, the management of any company must introduce a lead generation strategy and ensure a steady inflow of customers from web pages, social media, blogs, and other resources.
An average business loses from 10 to 25% of its customers yearly. This means that the companies that don't use lead generation practices risk being left without customers. Moreover, a smooth lead onboarding and stunning customer experience benefit business in general. They increase sales and speed up conversion.
Strategies of Lead Generation Campaigns

There is no standard or universal solution for all websites. Every company and website lead is unique and requires a custom approach. In most cases, businesses combine several lead generation strategies in a single marketing campaign. This helps to achieve a cumulative effect since diverse approaches boost each other.
Here are the most common types of lead generation strategies and campaigns:
Lead capture campaign. Businesses use forms or landing website pages to collect information about their potential leads. Such lead capturing forms usually include a CTA.
Email marketing lead generation. A company collects and targets customer email addresses to stay in touch with them. This approach of website lead generation is a highly popular strategy used in many lead generation campaigns.
CRM lead management. Marketing teams integrate special CRM management tools with existing systems to track prospects and nurture sales leads. CRM services collect information on all collected leads.
Lead prospecting. Businesses use lead prospecting to find new leads and drive traffic to the main website pages and social media. They also conduct data analysis to determine whether a specific person can become a prospect lead.
Sales lead generation. A company takes steps to turn new leads into sales. This strategy is mainly focused on lead nurturing techniques.
Conversion rate optimization (CRO). Once the leads are engaged, marketing and sales teams use CRO tools to make sure the maximum percentage of the collected leads convert. This helps to grow sales and increase the number of paying customers.
Inbound lead generation campaign. Companies invest in search engine optimization and content marketing to attract visitors to their websites. They don't contact the people directly and mainly rely on the quality of their content, website pages, and social media profiles.
Outbound lead generation campaign. Contrarily to the inbound strategy, this method may include cold calling, outbound messaging, direct mail, and display ads. The targeted people haven't agreed to be contacted and haven't displayed an interest in the company.
Social media lead generation. Businesses create accounts on social media to find people that like their company. Later these social media contacts can be used to inform leads about new offers, important updates, or news.
Local lead generation campaign. This marketing technique is effective for businesses that target primarily local customers. It puts emphasis on local SEO, location-based advertising, and other strategies that allow you to attract the attention of buyers from a specific region or city.
Content marketing lead generation. Most marketing specialists incorporate content in their lead generation strategy, be it a website blog or a social media post. Besides, to increase the visibility of content in search results, it's also necessary to optimize it for search engines.
None of these approaches is self-sufficient and can cover all the stages of the lead generation funnel. Besides, to connect them and efficiently analyze the results, you will need to use marketing automation software. Professional marketers usually combine several tools that complement each other, expanding their marketing capabilities. Such tools comprise a range of features necessary to convert fresh leads into sales and, later on, loyal customers.
Thus, there is no need to develop software from scratch and reinvent the wheel. There are numerous services with free subscription options that allow you to build a solid lead generation campaign and track it.
More about the functionality, advantages, and pricing of the best 34 lead generation tools below. To make the search of a perfect tool more convenient we divided them into groups.
TOP 34 Best Lead Generation Tools and Software
Categories of Lead Generation Tools:
Lead Capture Tools
Features of Plerdy Lead Capture System
Plerdy is a multifunctional online tool for website promotion and optimization. It helps online businesses capture new leads, optimize their websites for search engines, and improve customer conversion. With Plerdy's PopUp Software, website owners can collect leads by configuring custom pop-ups on their web pages. Advanced SEO functionality helps to make a website more noticeable in search results, whereas heatmaps allow marketing and sales teams to fine-tune navigation.

What Makes Plerdy's Lead Capture System Special
No marketing or software integration expertise is needed to start using Plerdy. Besides, this lead capture system has numerous functions that help to enhance the customer journey at each stage of the funnel.
Plerdy Pricing
There is a free version of this lead capture tool. For additional capabilities, you will need to pay from $29 to $99 per month. The enterprise plan is discussed individually.
Plerdy: Free Lead Capture Software
Available
Features of Optinmonster Lead Capture System
The functionality of the Optinmonster system helps to capture new leads and turn website traffic into real sales leads and customers. This lead capture software offers different types of forms, including inline forms, floating bars, side-in scroll boxes, etc. Such pop-ups are essential to enable website visitors to quickly share their contact information. Optinmonster also supports page-level targeting for lead segmentation.

What Makes Optinmonster Lead Capture System Special
The lead capture tool provides A/B testing and analytics.
Optinmonster Pricing
The cheapest Basic plan costs $9/month, whereas the most advanced one – $49/month.
Optinmonster: Free Lead Capture Tools
Not available. Optinmonster offers a 14-day money-back guarantee
Features of Unbounce Lead Capture System
Unbounce is renowned among many businesses as an easy-to-use custom landing page builder. It's one of the most advanced drag-and-drop website building tools for SaaS, agencies, and e-commerce companies. This system also provides A/B testing functionality that allows you to make sure the created website really attracts users.

What Makes Unbounce's Lead Capture System Special
Unbounce focuses on building landing pages that generate leads and make website visitors convert.
Unbounce Pricing
The price of this website builder tool ranges from $99 to $499 per month.
Unbounce: Free Lead Capture Tools
14-day free trial
Features of Turnstile Lead Capture Tool
This lead capture software stands on the crossroads of lead capture and email marketing lead generation software. Why? Turnstile is an online service designed by Wistia to collect emails and names of website users that watch a specific video. You can show an email capture page when a video just started, reached the middle, or finished.

What Makes Turnstile's Lead Capture Tool Special
Videos offer a unique way to capture leads and effectively engage website users
Turnstile Pricing
The cheapest paid plan costs $99/month. The Advanced subscription is discussed individually.
Turnstile: Free Lead Capture Tools
Available
Features of Intercom Lead Capture System
Intercom lead capture tool doesn't only collect leads – it helps to build stronger relationships with your website visitors. This software provides customizable chatbots that are displayed under specific conditions. For example, you can choose to automatically send users a welcoming message once they enter the website.

What Makes Intercom's Lead Capture System Special
This lead capture tool allows you to instantly start communication with website visitors. Your sales team can help them with navigation, recommend a product, or collect emails to start nurturing them.
Intercom Pricing
The monthly price of this lead capture tool varies from $39 to $999.
Intercom: Free Lead Capture Tools
14-day trial
Features of Leadpages Lead Capture System
Leadpages is online software that promises to "turn clicks into customers" with the right landing website. You can publish first website pages in several minutes using conversion-optimized and responsive templates. Then take your time to customize and test the website. Besides, this lead capture tool can show pop-ups, opt-in texts, and alert bars.

What Makes Leadpages' Lead Capture System Special
This tool focuses on helping small businesses to succeed and comprises all the main features necessary to start lead generation
Leadpages Pricing
The Standard plan is priced at $25/month, whereas the most Advanced one costs $199/month
Leadpages: Free Lead Capture Tools
14-day trial
Features of Typeform Lead Capture System
This lead generation tool offers a fresh look on traditional website forms. It provides extraordinary and stylish templates that encourage website visitors to share their email and contact information. Besides, this online service integrates with many popular CRMs and tools, including HubSpot, MailChimp, Trello, Google Sheets, etc.

What Makes Typeform's Lead Capture System Special
Typeform has truly unique custom templates for website forms
Typeform Pricing
The prices range from 30 to 70 euro per month
Typeform: Free Lead Capture Tools
Available
Features of Sumo Lead Capture Tool
Sumo lead capture system is a budget software for email collection. It enables business owners to configure website forms on their own. Besides, they can add social share buttons to websites, encouraging visitors to repost the content. Such lead capture functionality helps to obtain valuable addresses and build better social media presence.

What Makes Sumo's Lead Capture Tool Special
The tool has plugins for WordPress, Shopify, and Google Tag Manager and supports social shares.
Sumo Pricing
You can choose between the free option and the $39/month plan.
Sumo: Free Lead Capture Tools
Available
Features of Proof Lead Capture System
This lead capture system comprises two tools: Experiences and Pulse. The Experiences tool allows website owners to tailor their online content to every website visitor. The look of a website will differ depending on the lifecycle stage, industry, company size, etc. The Pulse tool displays notifications on what other visitors do on a website (e.g. 2 people are checking this product). This can help your company create a feeling of scarcity and entice website visitors to become leads.

What Makes Proof's Lead Capture System Special
The combination of tools for content personalization and real-time notifications.
Proof Pricing
From 29 to 249 $/month
Proof: Free Lead Capture Tools
Demo available
Email Marketing Lead Generation Tools
Features of MailChimp Email Marketing Lead Generation Tool
MailChimp software has a strong focus on customer emails and website pop-up forms. It's probably one of the most well-known email marketing lead generation tools. You can use it to create shoppable website landing pages, customize website forms, send highly personalized emails, and quickly build complex email campaigns.

What Makes MailChimp's Email Marketing Lead Generation Tool Special
MailChimp lead generation tool offers the Email Beamer feature that can automatically convert an email you send into a draft campaign tied to a specific audience.
MailChimp Pricing
The cost of MailChimp ranges from $9.99 to 299 per month.
MailChimp: Free Lead Generation Tools
Available
Features of Really Good Emails Marketing Tool
As the name of this lead generation tool implies, email marketing campaigns are its superpower. Really Good Emails offers hundreds of email templates divided into 7 main categories: Behavioral, Inaugural, Promotions, Miscellaneous, Industry, Punctual, and Enhancement. These types of emails can benefit all the stages of the lead generation funnel, from lead capture to nurturing or retargeting.

What Makes Really Good Emails' Marketing Tool Special
They offer one of the largest pools of email templates for multiple purposes.
Really Google Emails Pricing
The Starter plan costs $19/month
Really Good Emails: Free Marketing Tools
Not available
Features of SendinBlue Email Marketing Lead Generation Tool
Sendinblue is a sales and marketing toolbox with the core functionality for email/SMS marketing and building website landing pages. In addition to welcoming emails, newsletters, and other tools for lead capture, Sendinblue supports website chats that are very effective to collect leads. Among other things, it also works as a CRM, provides target audience segmentation, social media ds, and signup forms.

What Makes SendinBlue's Email Marketing Lead Generation Tool Special
This email marketing tool is very multifunctional. Thus, in addition to professional emails, you will get a bunch of additional capabilities.
SendinBlue Pricing
For the Lite plan, you will be charged $25/month (it's the cheapest option). Enterprise subscriptions are discussed on a per case basis.
Sendinblue: Free Lead Generation Tools
Available
Features of ActiveCampaign Email Marketing Lead Generation Tool
This software offers five types of features for email marketing, marketing automation, sales&CRM, messaging, and machine learning. ActiveCampaign supports subscription forms, SMS, website messages, and targeted email campaigns that are critical for an effective lead capture and nurturing strategy. You can use it to segment email recipients based on their characteristics and behavioral patterns.

What Makes ActiveCampaign's Email Marketing Lead Generation Tool Special
ActiveCampaign has the Predictive Sending feature which enables you to send emails just at the right moment.
ActiveCampaign Pricing
The price ranges from $9 for the Lite plan to $229 for the Enterprise plan per month.
Active Campaign: Free Email Marketing Lead Generation Tools
Available
Features of Hunter.io Email Marketing Tool
This software is fully dedicated to emails. Its website includes an online search bar you can use to find the email of a specific person or domain. Hunter.io also provides a Chrome extension and supports email verification that saves you from wasting time on invalid email addresses.

What Makes Hunter.io's Email Marketing Tool Special
Hunter.io's Chrome extension is a very convenient way to speed up data collection and get to targeting leads as soon as possible.
Hunter.io Pricing
The cheapest plan costs $49/mo, the most advanced one – $399/mo
Hunter.io: Free Email Marketing Tools
Available
Features of Mailshake Marketing Tool
Mailshake's software allows marketing specialists and sales teams to automatically send tailored cold emails and follow-ups. In a single dashboard, you will be able to see all interactions with your prospect leads, call them using an integrated phone dialer, and connect with customers on social media. To help you get the most out of the tool, Mailshake provides weekly live training.

What Makes Mailshake's Marketing Tool Special
This software is great for a marketing strategy based on cold emails, messages, and social media connections.
Mailshake Pricing
There are two plans: for $59/mo and $99/mo
Mailshake: Free Marketing Tool
You can book a demo of Mailshake
Features of AWeber Email Marketing Tool
Among multiple features supported in AWeber, AI-powered smart email designer and landing pages builder are particularly useful to capture leads. To nurture the engaged users, you can try out automated newsletters tied to your blog or other online resources. Besides, AWeber provides audience segmentation and targeting which will help you study the collected contacts and make your email marketing strategy highly relevant.

What Makes AWeber's Marketing Tool Special
With AWeber's AMP for emails, you can easily include interactive messages in your campaign.
AWeber Pricing
From $19 to $149 per month
AWeber: Free Marketing Tool
30-day trial
CRM Lead Management Tools
Features of Salesforce CRM for Lead Management
Although Salesforce is equally suitable both for a small business and a large company, such software is mostly used by professional marketers. Since there are so many capabilities, you need to know how to use them right. In particular, this CRM ensures smooth management of your website customers thanks to the following key features: account, lead, and contact management, sales forecasting, lead scoring, campaign impact analytics, marketing strategy reporting, and more.

What Makes Salesforce's CRM for Lead Management Special
It's one of the leading CRM management software for building a multi-channel marketing strategy. Salesforce offers multiple tools charged separately.
Salesforce Pricing
The price starts from $7/month to several thousands for one type of available plans.
Salesforce: Free CRM for Lead Management
Trial period
Features of Insightly CRM for Lead Management
Insightly is a CRM platform that provides sales and marketing teams with unified customer data. You can learn personal details, tastes, and needs of customers to nudge them into purchase or conversion. Insightly also allows you to automate the sales cycle and measure the results of your marketing strategy. Marketing and sales management is the main focus of this software.

What Makes Insightly's CRM for Lead Management Special
In addition to the features for marketing and sales management, Insightly can also be used for project management. Shareable custom dashboards and reports are other great capabilities of this tool.
Insightly Pricing
There are two main types of subscriptions: CRM and Marketing. CRM costs from $29 to $99 monthly, Marketing – from $299 to $1299.
Insightly: Free CRM for Lead Management
Demo version
Features of LeadMaster CRM for Lead Management
Similarly to other CRMs, LeadMaster has a wealth of features. Lead capture, tracking, nurturing, distribution scoring, and analytics, sales management, email marketing, custom forms, website page customization are just a few of them. LeadMaster justifies its name and includes all the necessary features to manage leads.

What Makes LeadMaster's CRM for Lead Management Special
This software is a great option for a small or medium company thanks to its affordable pricing and multi-purpose functionality.
LeadMaster Pricing
You can choose from two paid plans: CRM Express for $15/month and Professional for $50/month.
Lead Master: Free CRM for Lead Management
Keap: 30-day free trial
Features of Keap CRM
This CRM software stores all website customers' information in one place, including contact info, shared files, history of meetings, conversations, quotes, tags, etc. Keap can automatically send dedicated messages to new website leads, allows them to book appointments with your sales team or pay invoices in one click.

What Makes Keap's CRM Special
Additional features for booking appointments and issuing invoices considerably enhance your sales campaign and customer support strategy.
Keap Pricing
The plans offered by Keap's CRM range from $79/mo to $199/mo.
SharpSpring: Free CRM for Lead Management
14-day trial
Features of Sharpspring CRM
Sharpspring's visual workflow builder enables you to see when leads reach the most critical stages of the funnel. Every day the tool sends a list of the hottest leads to your inbox so you can immediately start working with them. You can also use its dynamic forms and tailored newsletters.

What Makes Sharpspring's CRM Special
The tool assigns visitor ID to every website lead to help you better track your customer behavior.
Sharpspring Pricing
The price of the subscription depends on the number of contacts and ranges from $550/mo to $1250/mo. The enterprise plan is discussed individually.
Contactually: Free CRM for Lead Management
Demo version available
Features of Contactually CRM
Use Contactually to synchronize your emails, calls, and communications by just uploading a spreadsheet. After that, you can prioritize all website leads based on how often you need to contact them. This allows you to optimize the sales funnel and develop a marketing strategy that takes into account the interest of each target group. The online tool automatically messages customers when they are the most likely to respond positively.

What Makes Contactually's CRM for Special
This software is highly effective for real estate agents and brokers.
Contactually Pricing
You can choose one of two plans: Professional ($69/mo) and Accelerator ($119/mo)
VWO: Free CRM for Lead Management
14-day trial
Conversion rate optimization tools (CRO software)
Features of VWO CRO Tool
VWO marketing and sales funnel optimization platform consists of 6 tools: VWO testing, VWO Insights, VWO FullStack, VWO Engage, VWO Plan, VWO Deploy. This software provides great A/B and multivariate testing capabilities and allows you to make sure your website yields maximum results. Apart from that, VWO provides sales funnels visualization, session recordings, heatmaps, and form analytics. Thus, you can quickly determine any bottlenecks in the lead funnel, eliminate them, and test the results.

What Makes VWO's CRO Tool Special
Extensive testing and sales funnel analytics capabilities.
VWO Pricing
From $99 to $467 per month depending on the combination of tools you pick.
Mixpanel: Free CRO Tools
30-day trial
Features of Mixpanel CRO Tool
Mixpanel offers a bunch of professional dashboards for data comparison and analytics. You can segment your target audience to see what behaviors lead to a specific goal. As a result, you will be able to model website visitors' behavior based on your needs. For example, show an add if they encourage social media users to complete a purchase. Such CRO software is essential to launch a sales strategy that truly works.

What Makes Mixpanel's CRO Tool Special
This CRO is a great choice for fans of colorful dashboards with data on social media channels, users' interests, articles read, etc.
Mixpanel Pricing
The basic paid plan costs $89/month. The Enterprise subscription is discussed on a per case basis.
Clearbit: Free CRO Tools
Available
Features of Clearbit CRO Tool
In this case, the CRO optimization is mainly based on data enrichment and validation. Clearbit allows your company to complete contact information of website visitors, getting additional touchpoints to interact with them. Thanks to detailed customer profiles, you can close more deals and encourage customers to go through your sales funnel more effectively.

What Makes Clearbit's CRO Tool Special
This software helps to enrich customer data and increase the overall quality of your customer database.
Clearbit Pricing
From $99 to $199 per month
Lead Forensics: Free CRO Tools
Demo version available
Features of Lead Forensics CRO Tool
This sales funnel optimization software identifies leads in real-time. You can instantly detect business name, demographics, contact info, and behavior of  anonymous website visitors. Lead Forensics also performs lead scoring, allowing you to focus on the most profitable leads. As a result, your company quickly processes website traffic and starts nurturing potential customers.

What Makes Lead Forensics's CRO Tool Special
This CRO tool converts anonymous users into leads
Lead Forensics Pricing
Tailored package and price
SlideShare: Free CRO Tools
7-free trial
Inbound Lead Generation Tools
Features of SlideShare Inbound Lead Generation Tool
SlideShare is a professional service for content creation powered by LinkedIn. Your company can use it to create presentations, videos, infographics, and documents. SlideShare allows you to collect emails of the leads that download your presentations and add links or CTA to slides. Such indirect marketing will boost your inbound lead generation strategy.

What Makes SlideShare's Inbound Lead Generation Tool Special
It provides the functionality for quick visual content creation and sharing.
SlideShare Pricing
It's free
LinkedIn Sales Navigator: Free Lead Generation Tools
Available
Features of LinkedIn Sales Navigator for Business Leads
This inbound business leads generator allows you to search business leads, message, and nurture them through LinkedIn. The Sales Navigator add-on supports advanced company search, provides recommendations, and updates you on any changes related to business leads in real-time. For example, you will instantly learn when someone changes their job, interacts with your LinkedIn post, accepts your connection request, etc.

What Makes LinkedIn Sales Navigator for Business Leads Special
LinkedIn Sales Navigator is supported by one of the leading platforms for building business relations. It helps your company generate the best business leads and build long-term relationships with them.
LinkedIn Sales Navigator Pricing
The basic Professional plan costs $79.99 per month, whereas the Enterprise subscription is discussed with the sales team.
Hootsuite: Free Business Lead Generation Tools
Demo version available
Features of Hootsuite Social Media Lead Generation Tool
Social media marketing is a must-have for any modern company. Businesses widely use social media accounts for inbound lead generation and nurturing but don't always have software to automate social communications. Hootsuite helps to do that. This tool enables your company to track all social media profiles in one place, schedule publications, and measure results.

What Makes Hootsuite's Social Media Lead Generation Tool Special
This tool is very effective to manage business lead generation through social media.
Hootsuite Sales Navigator Pricing
The price of Hootsuite's social media tool ranges from $19 to $599 per month. The Enterprise plan is discussed individually.
HubSpot: Free Social Media Lead Generation
Available
Marketing Management Tools
Features of Hubspot Lead Management Tool
This platform consists of several products and allows you to manage all leads your company collected through emails, forms, social media and other resources in one place. Such information is critical for building a personalized marketing strategy. Hubspot displays a timeline with interactions for every lead, including downloads, social media interactions, page visits, etc. It also supports lead segmentation and scoring. Apart from that, Hubspot helps with tracking social media mentions, paid ads, and SEO.

What Makes Hubspot's Lead Management Tool Special
It's highly universal and provides a very convenient dashboard that can be shared by all company's teams.
Hubspot Pricing
From $50 to $3200 monthly depending on the product and plan chosen.
Hoovers: Free Lead Management Tool
Available
Features of D&B Hoovers Business Lead Management Tool
It's an online sales acceleration solution for B2B teams. Once your company identifies its target audience in D&B Hoovers, the tool selects relevant business profiles with meaningful details. This helps you formulate the most suitable offer for business leads and be better prepared for future interactions. The tool also provides real-time updates on business, digital, and social events enabling you to better manage your business.

What Makes D&B Hoovers Business Lead Management Tool Special
This tool is one of the best solutions for B2B sales.
D&B Hoovers Pricing
Not provided
Buzzsumo: Free Business Lead Management Tool
Available
Features of BuzzSumo Social Media Management Tool
This software helps your company see what content is trending online. You can use BuzzSumo to sharpen your social media strategy. It shows the most high-performing posts, predicts viral hits, identifies influencers, and collects data based on geographic filtering. You can also view all the comments left by users and rapidly respond to them.

What Makes BuzzSumo's Social Media Management Tool Special
This tool puts a special emphasis on social media marketing and social media management.
BuzzSumo Pricing
The pricing of BuzzSumo's social media management tool ranges from $99 to $499 monthly.
Social Media Management Tool
Available
Lead Prospecting Tools
Features of Datanyze Business Lead Prospecting Tool
Datanyze people targeting enables you to determine key decision-makers in a specific company or organization. The tool generates a list of potential leads with their job position, location, company, and marketing tools currently used. As a result, you obtain a selection of high-quality leads that can benefit your company.

What Makes Datanyze's Business Lead Prospecting Tool Special
It helps to find quality B2B leads with valuable contact details.
Datanyze Pricing
Not provided
Datanyze: Free Business Lead Prospecting Tools
Available
Features of Quora for Business Lead Generation
Although Quora is known as a question-answer website that covers any social or business topic, it's also helpful to generate B2B leads. You can either contact a company that posts on Quora directly or post yourself to get noticed. This strategy is effective to communicate directly with the company's representatives without being too pushy.

What Makes Quora Special for Business Lead Generation
Quora is very popular with different businesses and average users. It's a great platform to discuss business-related topics and promote your expertise as a company.
Quora Pricing
This platform is free
Quora: Free Tools for Business Lead Generation
Available
Conclusion
As you can see, the selection of the best tools for lead generation and management is broad. Such software helps you attract new customers through pop-up forms, emails, videos, social media, and other channels. After that, you can nurture the leads with useful content and quality user experience to turn them into buying customers.
With modern software, every stage of the sales funnel is easy to orchestrate and manage. It minimizes marketing chores and allows you to focus on building an effective marketing strategy.