In today's digital world, website analytics is essential for understanding user behavior and optimizing website performance. Two of the popular tools for website analytics (UX or CX) are Hotjar and Fullstory. In this blog post, we'll explore the benefits of each tool and compare them head-to-head for user analytics. Let's dive in.
I recommend reading the following articles:
The demand for web analytics software inspires technology providers to release more and more new tools. FullStory is one of the products that appeared the same year as Hotjar. It is often used instead of Hotjar, and now we will find out why (yet, there are still some differences 🙂). Read on to find out the main functionality, pros and cons of Hotjar and FullStory.
Hotjar vs. Fullstory for User Analytics
So, how do Hotjar and Fullstory compare for user analytics? Both tools offer powerful features for exploring user behavior, and you can get data for optimizing a website.
In terms of heatmaps, both Hotjar and Fullstory provide effective solutions for tracking user clicks, scroll depth, and mouse movements. Hotjar's heatmaps are sometimes more detailed and give more information, but Fullstory's heatmaps are easier to use and navigate.
In terms of video recordings, Hotjar and Fullstory collect data to understand UX. Hotjar's recordings provide more detailed filters and comprehensive information.
What is Hotjar?
Hotjar is a web analytics tool with several heatmaps, session recording functionality, polls, and surveys. It's recommended to website owners, digital marketers, and UX/UI designers to understand how people interact with a specific website. You can view snapshots of website pages reflecting which elements users click or hover over the most often and which remain unclicked. Aft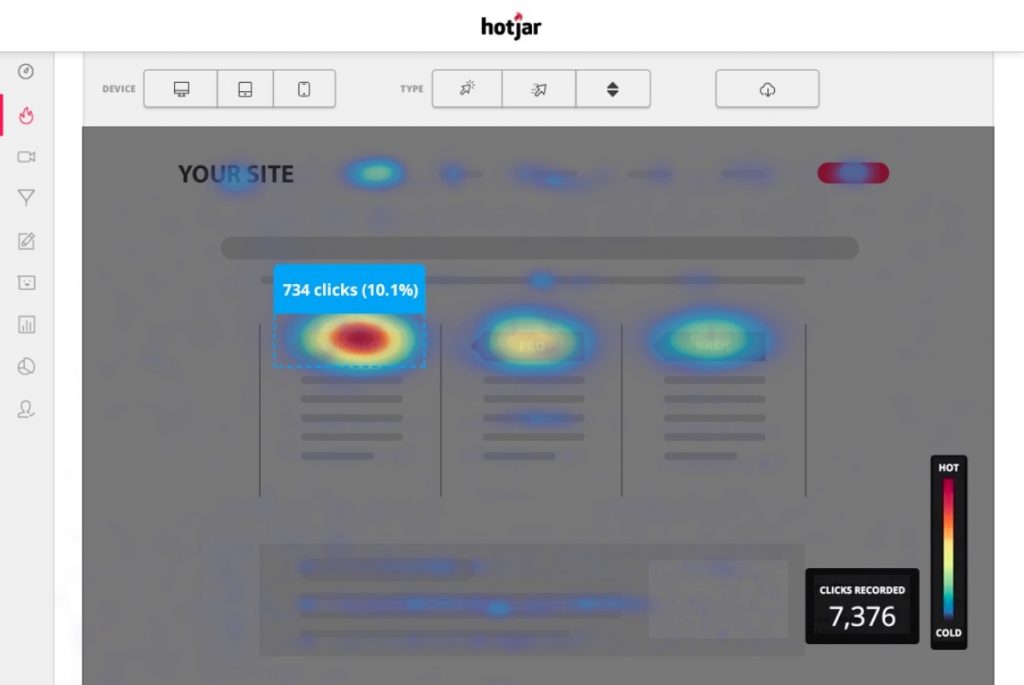 er that, the data-driven design and marketing changes should help you generate more leads and optimize conversions.
Hotjar Functionality:
Click, mouse hover, and scroll heatmaps that use color coding to highlight popular website areas with warm colors. The heatmap data is provided in snapshots.
Session recordings allow you to watch how users interact with your website pages in movie-like videos.
Customizable surveys and polls you can place on different website pages to collect user feedback directly.
Reporting and analytics for more comprehensive website analysis.
Conversion funnel visualization showing at what stage of their customer journey users leave.
Multi-device support to track user behavior on different website versions and compare the results.
Intuitive interface.
With the features like these, Hotjar has proved itself as a reliable web analytics tool that gives crucial insights and helps boost website performance. Now let's see what its competitor can offer you.
What is FullStory?
FullStory is a website analytics and conversion tool with session replay functionality. It's commonly used by tech and marketing specialists to get a realistic picture of the customer experience. Session recordings are also helpful for bug fixing since they provide a log of JS errors alongside replay. FullStory supports heatmapping functionality and analytics but has fewer capabilities than Hotjar. This makes FullStory a preferred option for companies that need session recording and bug-fixing features.
FullStory Functionality:
Session recording functionality that captures all customer sessions and provides high-quality videos featuring critical interactions in a convenient format. When users are logged in, their customer profile with all details and session history will be shown alongside session recordings.
Heatmaps that help you determine which website areas and pages users click and scroll the most often.
Log of JavaScript errors you can view during session replays to instantly find bugs and fix them.
Event funnel to see how many users complete a set of actions.
Segmentation and search functionality that helps you quickly find the necessary session.
Frustration signals that suggest when, where, and why your website visitors are having trouble.
As you see, FullStory can also boast a powerful set of features. You decide whose functionality fits you more.
Expert Opinion on Hotjar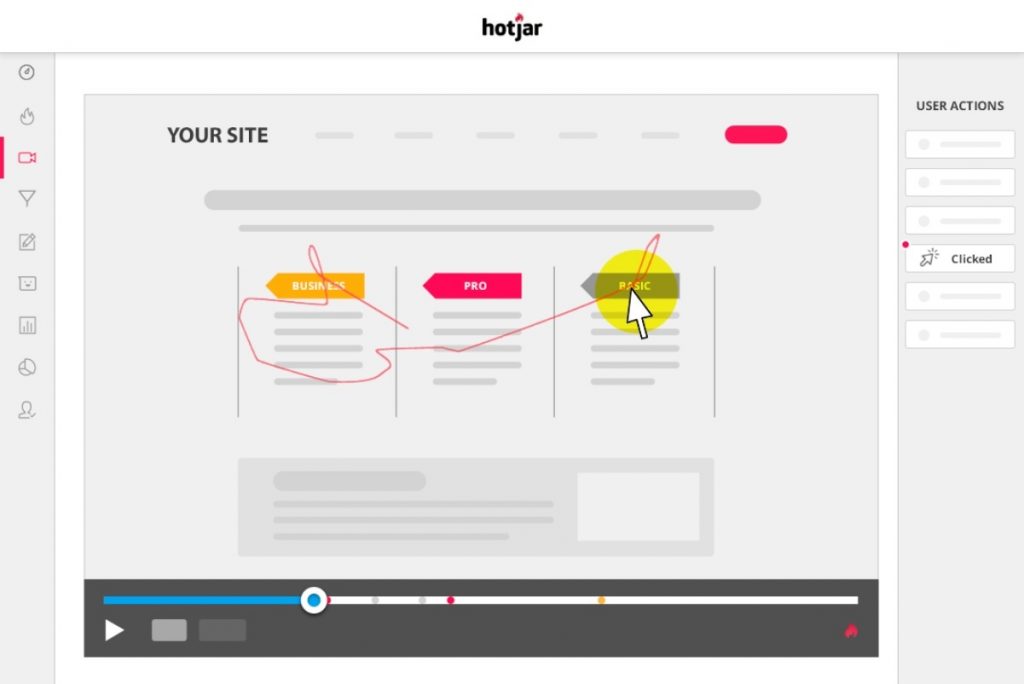 Hotjar has everything you may need to analyze user behavior on a website. Its heatmaps collect user clicks, scrolls, and hovers useful for continuous website monitoring. You can see the behavioral trends on a website and understand where something goes wrong. Once you know the tough spot, you may use another Hotjar feature, session recordings, to detect what is happening there. Session recordings are valuable for discovering what confuses website visitors, even if it's a tiny element, irrelevant CTA, or another minor detail.
Hotjar is a high-quality and reliable tool for website analysis. It includes custom reports and surveys and provides extensive reporting and easy-to-understand conversion funnel visualizations.
The pricing options of Hotjar are highly customizable. The final price will range depending on the number of page views. And there is a 30-day money-back guarantee if you don't like what you've paid for.
Expert Opinion on FullStory
FullStory is a tool for website owners, product managers, engineers, and UX/UI designers. It shows how specific target audiences browse a website and what problems they face.
User session recordings provided by FullStory are accessible to segment and view thanks to extensive search functionality. You can find recordings related to the necessary group of website visitors and analyze their actions. You don't have to watch tons of videos. This speeds up the website analysis process and lets you focus on a narrow target group to tailor your marketing efforts. FullStory also supports heatmaps and reporting that provide you with aggregated data on user behavior. Such visualizations and statistics are helpful in evaluating the overall situation on the website.
FullStory frustration alerts are released when a website visitor encounters a problem, so you can instantly detect errors on the website. A log of script errors available in FullStory additionally simplifies bug fixing. This way, you can optimize the technical characteristics and enhance the website's performance.
FullStory should be recommended to businesses looking for detailed user insights and session recordings.
Hotjar Reviews
It is next to impossible to say whether this or that tool is a decent option without people's opinions. Therefore, I've decided to take a look at reviews from real users telling what they like/dislike about the solution.
Here are the reasons why users like Hotjar:
"Ganesh P.: It's really an all-in-one solution that gives you the user insight which is needed, such as Heat map, Recordings, Feedback and survey."
"Verified User in E-Learning: It's pretty straightforward and easy to use. Setup is easy and the whole process of using it is pretty seamless."
"Verified User in Computer Software: I like how Hotjar doesn't have too many options and does exactly what it says it does – show you heatmaps on your website."
And below go points they would improve:
"Ganesh P.: Sometimes it was difficult for me to find what I needed, so I would make the navigation easier. Overall, it was a nice experience."
"Verified User in E-Learning: Because our website is built a certain way, there were limitations with our heat mapping."
"Verified User in Computer Software: It shows data from just a single page and not where the visitor goes from there, providing an incomplete picture."
So, this is how Hotjar is perceived by its users. Despite the availability of the most necessary features, there's still room for improvement.
FullStory Reviews
Here are some reviews about FullStory.
First, let's consider what users like about FullStory:
"Shelley P: I use FullStory primarily to troubleshoot customer issues. It is invaluable to be able to see exactly what is going on. I can share this with our developers, and they can see what the network is doing in the background."
"Paul O.: Fullstory provides us with so many actionable insights in a matter of seconds. You can very quickly and easily find information for simple and more complex questions."
"Sunil M.: It's an amazing tool to take a look at user sessions and how users interact with the product."
Now go to the aspects they would like to improve:
"Shelley P.: There is nothing I would like to change about the solution: it is easy to use and nice!"
"Paul O.: Running out of sessions, maybe having more revenue-focused tools out of the box."
"Sunil M.: It does not provide insights on aggregated levels – like what the avg time to complete a workflow is, etc."
Users are obviously satisfied with all FullStory allows them to do, but they wouldn't mind getting even more.
Hotjar: Case Studies
No review would be full without case studies of real companies. Here are the companies that used Hotjar and liked it:
Bannersnack. Bannersnack is an online banner and design tool. The team had no idea how people interacted with their website, so they didn't know how to improve it. Gabriela Popa, a content marketing specialist, said that Hotjar did not influence the speed of the website while helping them to understand how to optimize conversions and more. They especially liked heatmaps and recordings. As a result, they noticed a 12% increase in the overall usage of the tool.
ClickMechanic. It is a marketplace that helps people who need auto repair services find the right mechanic. Simon Tinsley, Growth Manager for ClickMechanic, said the free Hotjar version was perfect enough for them to identify the barriers to purchasing and redesign landing pages, which helped to increase conversions by 60%!
Yatter. Yatter is a lead generation agency that needed to change its website to attract more people. Gavin Bell, the founder, said that Hotjar helped the team to understand what people looked for, which helped to make the right offers. Besides, they got a 42% increase in their conversion rate!
So, the experience of these companies shows us great results, making Hotjar a nice option to try.
Fullstory: Case Studies
There are also many companies that like Fullstory and share their experience with us!
Thomas. This company has served and connected industrial buyers and suppliers since 1893. Their use cases are customer support, bug identification, and product roadmap. Julian Gaviria, Director of User Experience, says that FullStory is a part of their culture.
HBS. Hudson's Bay Company (digital shopping) uses Fullstory for UX research, learning customer journeys, and more. Yi Cao, a Senior Manager, is convinced that the tool is really helpful for communicating with customers and getting to know more about their problems.
Younique. It is a cosmetics company that empowers women around the globe. Matthew LeGare, Senior Director of Digital Product Management, says Fullstory changed the way they work. They increased on-site conversion rates, reduced time-to-checkout, and smoothed internal communication with FullStory.
As you can see, multiple tasks can be solved with the help of a Fullstory tool: bug identification, product roadmap improvement, and more.
Conclusion
Even after the step-by-step comparison, we cannot state that one tool is better than another. They are just different in their functionality and use.
If you are looking for web analytics and conversion software, Hotjar may be more suitable. It provides accurate heatmaps, multiple reports, and rich statistics. The customer and community support are outstanding. Yet, in case you need a solution that can help you analyze a specific target audience and detect website bugs, be sure to test FullStory. This product includes effective Dev tools that can benefit any engineering team.