Hotjar is a renowned web analytics tool used by almost half a million websites worldwide. Although it offers quality heatmaps, detailed reports, session recordings, and other handy features, many Hotjar users are looking for alternatives. Some of them seek more functionality, and others are not satisfied with pricing plans. The reasons greatly vary.
We recommend reading the following articles:
The demand for web analytics software inspires technology providers to release more and more tools. FullStory is one of the products that appeared the same year as Hotjar. It's often used to substitute Hotjar, and now we'll find out why. Read on to learn the main functionality, pros, and cons of Hotjar and FullStory.
| Key features / Builder | Hotjar | Fullstory |
| --- | --- | --- |
| Overall Rating | 4.7 | 4.5 |
| Value for Money | 4.5 | - |
| Ease of Use | 4.6 | 4.3 |
| Quality of Support | 4.25 | 4.5 |
| Ease of Setup | 4.4 | 4.2 |
| Ease of Doing Business With | 4.45 | 4.9 |
| Product Direction (% positive) | 4.2 | 3.7 |
| Websites Powered (Number) | 443 022 | 23 168 |
| Number of Review | 334 | 100 |
| Year Founded | 2014 | 2014 |
| Free Trial (Days) | yes (15) | yes (14) |
| Free Plan (Time) | yes (forever) | yes (forever) |
| Number of Plans | 7 | 3 |
| Entry Level Price | free | free |
| Cheapest Plan (Monthly) | €99 | 0$ |
| Most Popular Plan (Monthly) | €189 | Custom |
| Most expensive (Monthly) | €989 | Custom |
| Discounts per year | - | - |
| Heatmaps | yes | yes |
| Scrollmap | yes | yes |
| Scroll Depth | - | - |
| Multi-device support | yes | yes |
| Click data segmentation by type of traffic | no | no |
| Analysis of dynamic elements | no | no |
| Data Segmentation by date | no | yes |
| Mouse Movement | yes | yes |
| Text selection | no | no |
| Sequence of clicks | no | no |
| Confetti Reports | no | no |
| List Report | yes | no |
| Real-time data | no | no |
| Eye Tracking | yes | no |
| Goal Tracking | - | no |
| A/B Testing | no | no |
| Polls and Surveys | yes | yes |
| Survey editor | yes | yes |
| Multiple question types | yes | - |
| Cross-device surveys | yes | - |
| NPS (Net Promoter Score) | yes | yes |
| Submission stats | yes | yes |
| Session Recording | yes | yes |
| Recording filtering | yes | yes |
| Replay visitor sessions | yes | yes |
| Heatmaps and Recordings sharing | yes | yes |
| Conversion Funnels | yes | yes |
| Conversion Segmentation by type of traffic | no | - |
| Conversion Segmentation by date | yes | - |
| Conversion Analysis Unique page views | no | - |
| Ability to integrate | yes | yes |
| IPs blocking | yes | yes |
| Customer Support | 4.1 | - |
| Email | yes | yes |
| Phone | no | no |
| Live Chat | yes | yes |
| Forum | yes | yes |
| Knowledge Base | yes | yes |
| Support Ticket | yes | yes |
| Training In Person | no | yes |
| Training Live Online | yes | yes |
| Training Webinars | yes | yes |
| Training Documentation | yes | yes |
Generated by wpDataTables
Top Alternatives Hotjar and FullStory:
Plerdy
Smartlook
Heap
Pendo
Quantum Metric
UserZoom
Mouseflow
CrazyEgg
What is Hotjar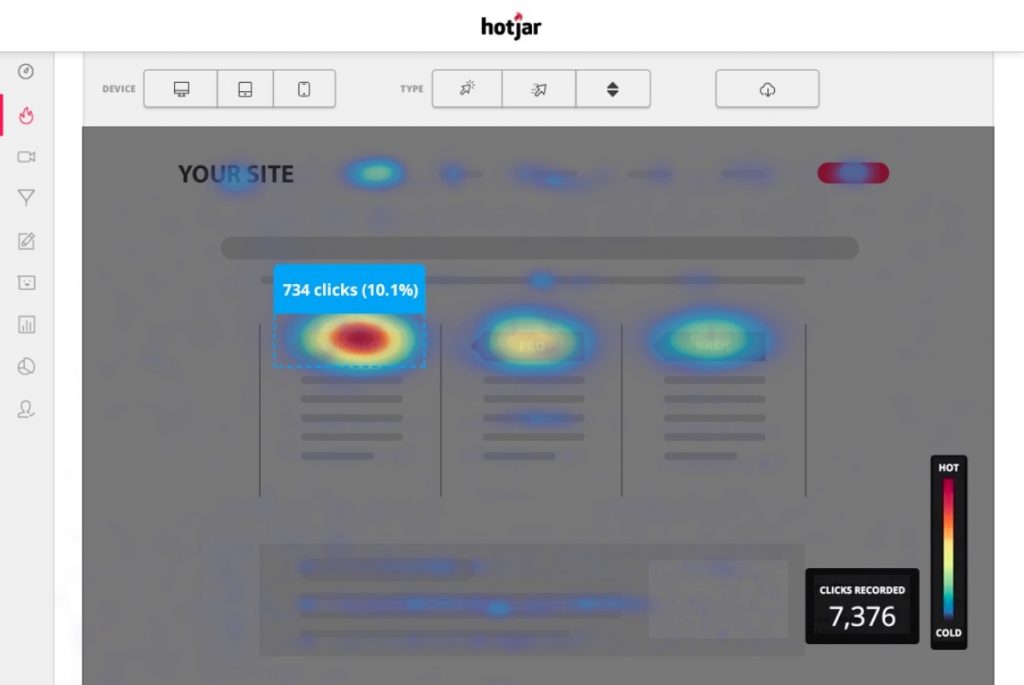 Hotjar is a web analytics tool with several heatmaps, session recording functionality, polls, and surveys. It's recommended to website owners, digital marketers, and UX/UI designers to understand how people interact with a specific web source. You can view snapshots of website pages reflecting what elements users click or hover over the most often and what remains unclicked. After that, data-driven design and marketing changes should help you generate more leads and optimize conversion.
What is FullStory
FullStory is a website analytics and conversion tool with session replay functionality. It's commonly used by tech and marketing specialists to get a realistic picture of the customer experience. Session recordings are also helpful to run bug fixing since they provide a log of JS errors alongside replay. Although Hotjar, FullStory supports heatmapping functionality and analytics, it has fewer capabilities than Hotjar. This makes FullStory a preferred option for companies that need session recording and bug fixing features.
Hotjar Functionality
Click, mouse hover, and scroll heatmaps that use color-coding to highlight popular website areas with warm colors. The heatmap data is provided in snapshots
Session recordings allow you to watch how users interact with your website pages in movie-like videos
Customizable surveys and polls you can place on different website pages to collect user feedback directly
Reporting and analytics for more comprehensive website analysis
Conversion funnel visualization showing on what stage of their customer journey people leave
Multi-device support to track user behavior of different website versions and compare the results
Intuitive interface
FullStory Functionality
Session recording functionality that captures all customer sessions and provides high-quality videos featuring critical interactions in a convenient format. When users are logged in, their customer profile with all details and session history will be shown alongside session recordings
Heatmaps that help you determine which website areas and pages users click and scroll the most often
Log of JavaScript errors you can view during session replays to instantly find bugs and fix them
Event funnel to see how many users complete a set of actions
Segmentation and search functionality that helps you to quickly find the necessary session
Frustration signals that suggest when, where, and why your website visitors are having trouble
Expert Opinion on Hotjar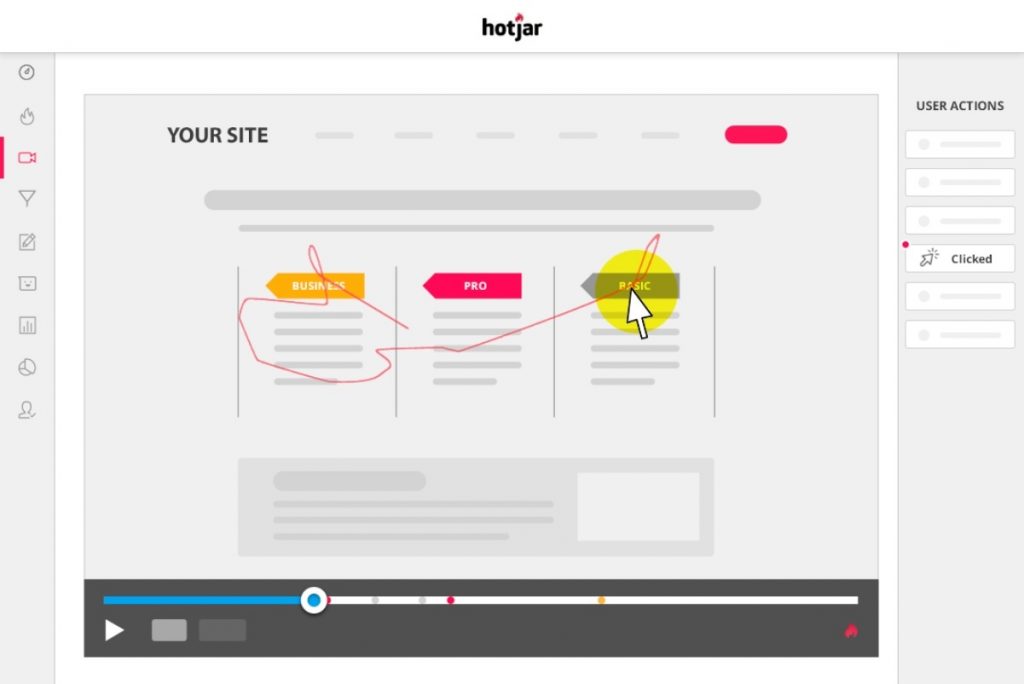 Hotjar has everything you may need to analyze user behavior on a web resource. Its heatmaps collect user clicks, scrolls, and hovers useful for continuous website monitoring. You can see the behavioral trends on a website and understand where something goes wrong. Once you know the tough spot, you may use another Hotjar feature, session recordings, to detect what happens there. Session recordings are valuable for discovering what confuses website visitors, even if it's a tiny element, irrelevant CTA, or another minor detail.
Hotjar is a high-quality and reliable tool for website analysis, except for these flaws. It includes custom reports and surveys, provides extensive reporting and easy-to-understand conversion funnel visualizations.
The pricing options of Hotjar are highly customizable. The final price will range depending on the number of pageviews, and there is a 30-day money-back guarantee if you don't like what you've paid for.
Expert Opinion on FullStory
FullStory is a tool for website owners, product managers, engineers, and UX/UI designers. It shows how specific target audiences are browsing a website and their problems.
User session recordings provided by FullStory are accessible to segment and view thanks to extensive search functionality. You can find recordings related to the necessary group of website visitors and analyze their actions. You needn't watch tons of videos. This speeds up the website analysis process and lets you focus on a narrow target group to tailor your marketing efforts. FullStory also supports heatmaps and reporting that provide you with aggregated data on user behavior. Such visualizations and statistics are helpful to evaluate the overall situation on the website.
FullStory frustration alerts are released when a website visitor encounters a problem, so you can instantly detect errors on the site. A log of script errors available in FullStory additionally simplifies bug fixing. This way, you can optimize the technical characteristics and enhance its performance.
FullStory should be recommended to businesses looking for detailed user insights and session recordings.
Hotjar Reviews
Here are some reviews about Hotjar.
What do you like about Hotjar:
The core functionality of Hotjar. They did a great job creating the heatmap feature. I can see how users interact with the website, hover with a cursor, and click. Thus, once I detect that an element is ignored, I can make it more noticeable or consider removing it. When the heatmap data doesn't help me understand user behavior, I can always view Hotjar's session recordings or place a survey. These features have already allowed me to optimize several marketing projects.
I like that Hotjar is a tool with strong community support. Each time I don't know how to do something or need advice, I can go to forums and read threads with similar problems or ask for advice. By the way, their support team also does a great job. Such things always matter when you use the software regularly.
Hotjar is simple and doesn't require any tech expertise. If your website is based on one of the popular platforms, such as Wix, Weebly, Shopify, or WooCommerce, it takes only one plugin to integrate Hotjar. Everything inside the tool, like user interfaces, navigation, menu, heatmaps, also has great usability.
What would you improve:
I would like to improve the conversion funnel function. It's too simple and doesn't include enough data to help website owners understand why people drop off. Even though surveys are great, they lack customization and sometimes cannot collect all information I'd like to get
Hotjar claims it doesn't increase website speed, but it does. At least in our case. I have tested Hotjar many times, but nothing changes. As if it wasn't enough, the video playback speed is also slow. When I need to view multiple recordings, it takes me a lot of time
Automated heatmap creation process would be nice
Hotjar should add more integrations with leading marketing tools such as HubSpot, Marketo, Salesforce, etc. This would make its data more valuable for every department in our company and create a single customer view
FullStory Reviews
Here are some reviews about FullStory.
What do you like about FullStory:
It can provide yearly, weekly, and monthly reports, which is very convenient to understand where your website currently stands and compare different time periods. FullStory generates reports in multiple formats (e.g., graph, bar, etc.). You can pick the most suitable visualization or use them for presentations.
FullStory has a fairly easy-to-use interface, so you won't need a lot of time to get the ball rolling. The platform includes basic web analytics functionality, like heatmaps and session recordings. The Frustration Signals feature something I particularly like. It lets you know when people struggle with navigating your website and help to optimize bug fixing.
This tool offers a wonderful combination of quantitative and qualitative data (e.g., user testing). Whereas other web analytics products show what happened, FullStory tells you why. Session recordings let you peek into the real customer experience and detect any bottlenecks on the conversion path. We use FullStory to evaluate how a new feature is performing each time we update something.
What would you improve:
The charges for multiple users are too high. If you are an agency expecting to use FullStory for several projects, it may put excessive pressure on your budget
FullStory doesn't care about their customer support, which is pretty sad. Sometimes, the tool is too slow. This will impede your performance and harm the decision-making process.
It's messy. FullStory generates a lot of data you may easily get lost in. The learning curve was steep for us, and we still feel like we cannot use all the tool's capabilities. They should pay more attention to educational materials and customer support.
Conclusion
Even after the step-by-step comparison, we cannot state that one tool is better than another. They are just different in their functionality and use.
If you are looking for web analytics and conversion software, Hotjar may be more suitable. It provides accurate heatmaps, multiple reports, and rich statistics. The customer and community support are outstanding. Yet, in case you need a solution that can help you analyze a specific target audience and detect website bugs, be sure to test FullStory. This product includes effective DeV tools that can benefit any engineering team.