If you are looking for a comprehensive comparison of Mouseflow vs. Hotjar, you have come to the right place. This blog post will compare the 2️⃣ tools and their features, pricing, and user experience. We will also discuss the importance of heatmaps and how they can help with analytics. So without further ado, let's dive right into it!
Mouseflow vs. Hotjar: A Comprehensive Comparison
When it comes to website analytics, Mouseflow and Hotjar are two of the popular software on the market. They both offer powerful analytics tools and user experience insights, but which one is better? Let's look at each and compare them to see which is best for your needs.
Features
The first thing to consider when comparing Mouseflow and Hotjar is their features. Mouseflow has many features, including 👌 session playback, heatmaps, form analytics, funnel analytics, conversion funnels, and more. Hotjar also provides many features, including heatmaps, polls and surveys, session recordings, and more (❌ they closed the "conversion funnel" product). Both tools are very powerful and offer similar features, but Mouseflow has a few extra features that give it an edge over Hotjar.
Pricing
The second thing to consider when comparing Mouseflow and Hotjar is their pricing. Mouseflow offers three different pricing plans ranging from $19 to $99 per month. Hotjar has more than three pricing plans ranging from $29 to $89 per month. Both tools offer great value, but Mouseflow is slightly cheaper.
Usability
The third thing to consider when comparing Mouseflow and Hotjar is their user experience. Both tools are very easy to use and offer an excellent user experience. Mouseflow has a modern and intuitive dashboard that is easy to navigate, while Hotjar has a more traditional user interface that may need to be updated. However, both tools are very user-friendly and ensure a great user experience.
Customer Service
The final thing to consider when comparing Mouseflow and Hotjar is customer service. Mouseflow offers 24/7 customer support and a wide range of tutorials and resources to help users get the most out of their tools. Hotjar also provides 24/7 customer support but has fewer resources and tutorials than Mouseflow. Both tools offer great customer service, but Mouseflow has the edge over Hotjar in this department.
I recommend that you read the following articles:
Despite having so much in common, Hotjar and Mouseflow still have some significant differences. They can affect your choice and make you prefer one tool over another.
Read my Hotjar vs. Mouseflow comparison to learn more about these services and decide which one you need.
What is Hotjar?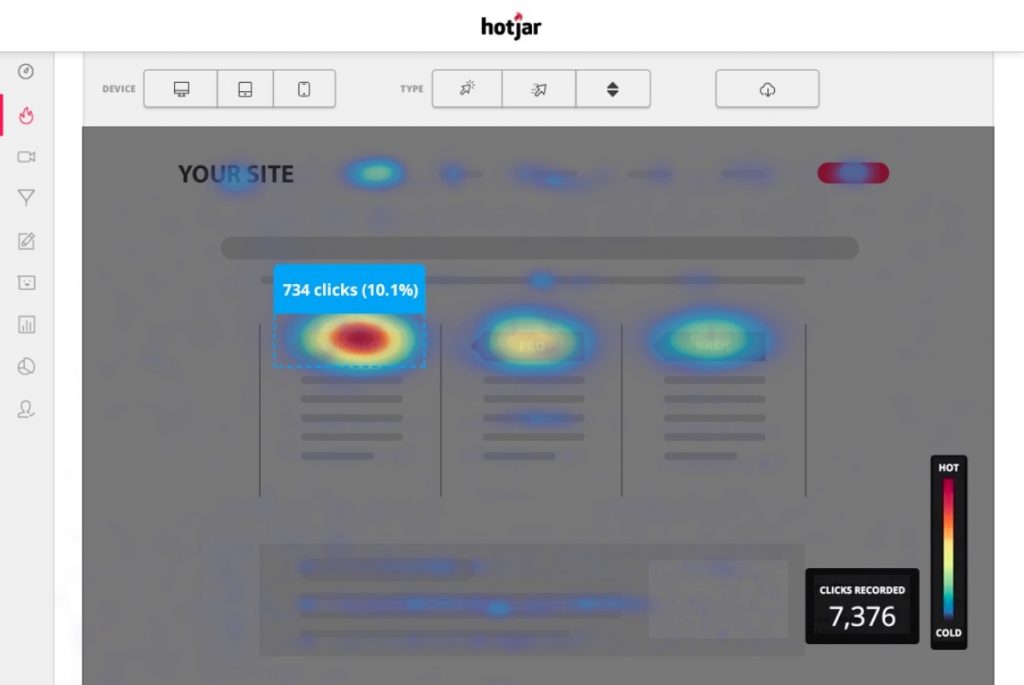 Hotjar is a website analytics tool used by over 400,000 websites worldwide. This makes it the most popular heatmap and session recording software. Hotjar's heatmaps collect user clicks, scrolls, and mouse movements to convert them into page snapshots showcasing user activity levels. Whereas heatmaps show what people do, session recordings show how they do this. Polls and surveys, conversion funnel visualization, reports, and other features help with website analysis. Hotjar has above-average pricing, so mind the budget.
Hotjar Functionality:
Click, scroll, and mouse movement heatmaps collect data on user behavior to show how people navigate the website and what elements they often interact with.
Session recordings to see what exactly people do on the web page.
Unlimited heatmap reports, session recordings, funnel, forms, and feedback in paid plans.
Drop-off funnel visualization to see what percentage of visitors leave the website at different stages of the conversion journey.
Surveys and polls place on website pages to communicate with users and troubleshoot.
Comprehensive reporting and intuitive interface.
As you can see, this tool can be used for solving multiple tasks. It can really help you to improve the performance of your website.
What is Mouseflow?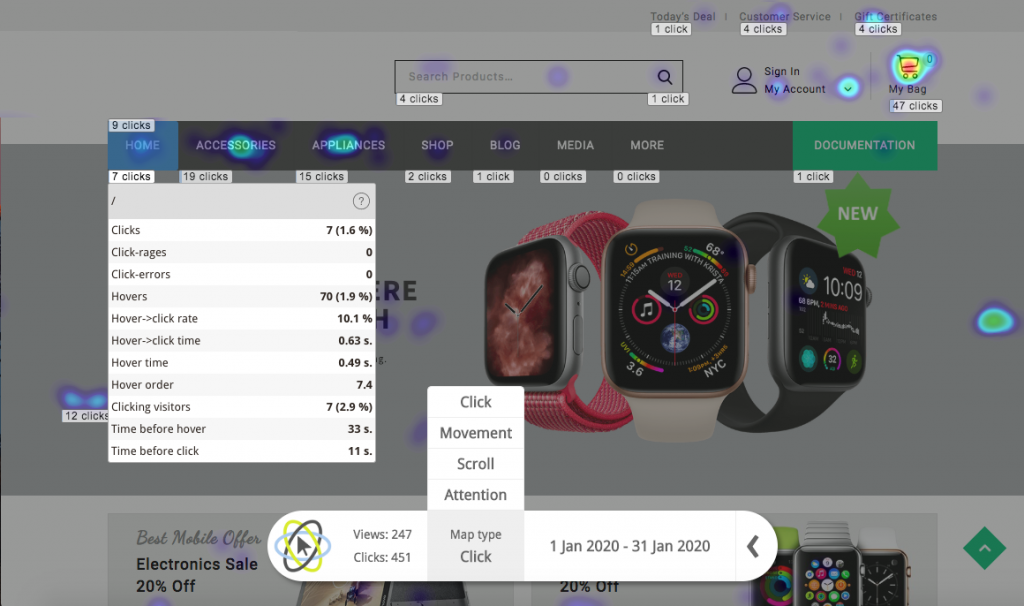 Mousflow is a website analytics tool that allows you to monitor how users behave on the website and improve conversions. Mouseflow shares almost every feature available in Hotjar, such as heatmaps, session recordings, drop-off funnels, forms, and user feedback. They work differently, but, in general, they provide the same information about websites. View the aggregate data on heatmaps, watch session recordings, collect on-page feedback, and benefit from many handy reports and visualizations. The critical difference is pricing. Mouseflow is a great budget choice with more affordable pricing plans.
Mouseflow Functionality:
Heatmap feature that records the most common types of user interactions, including clicks, scrolls, and mouse movements.
Session replays that show anonymized recordings of website visits. Segment them by specific parameters to filter recordings by error type, issue, etc.
Conversion funnel visualizations and reports.
Discount on paid plans for users who pay annually.
Custom interactive surveys and forms for user feedback collection.
Integrations with multiple platforms, including WordPress, Weebly, Wix, Magento, PrestaShop, Shopify, HubSpot, and others.
Friction score that shows when website users have troubles.
API for custom development available at more advanced plans.
It seems that Mouseflow offers more functions compared to Hotjar. Let's take a look at some expert opinions to make things clear.
Expert Opinion on Hotjar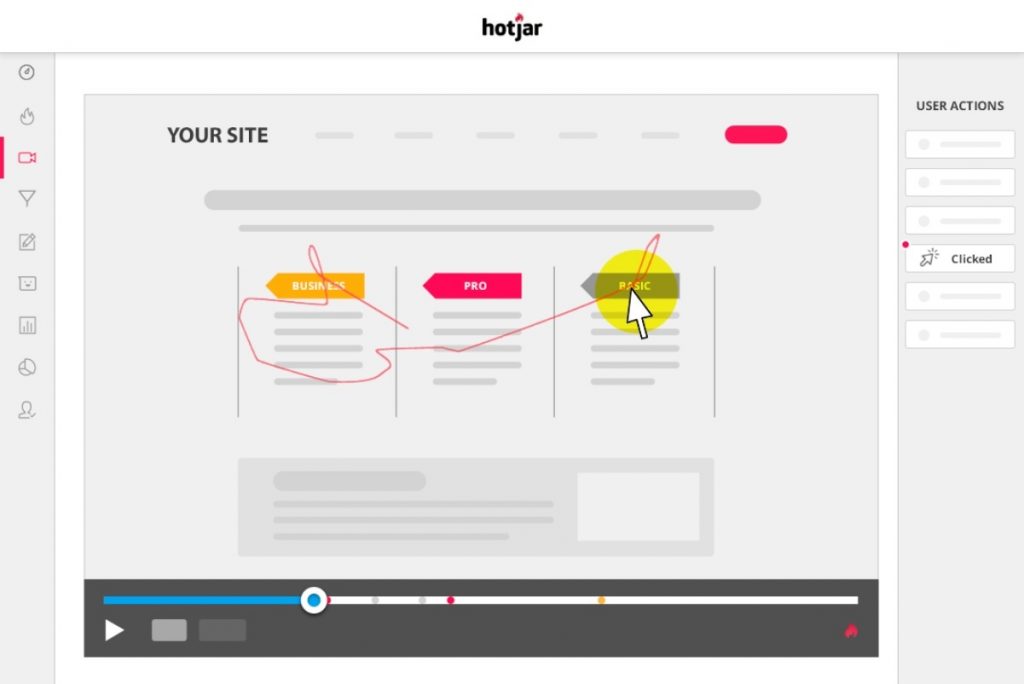 Hotjar's heatmaps stand out with rich functionality and reliability. They have excellent data accuracy and collect information on everything you need to know about user behavior – clicks, scrolls, and mouse hovers. If heatmap data isn't enough to understand why people don't convert, you may use the Hotjar session recordings. These movie-like recordings are helpful in improving the design and enhancing website usability, which in the long run, benefits conversion. To speed up the analysis, use the segmentation provided for session recordings.
Hotjar supports feedback collection. Although the polls would benefit from additional customization, they should be enough if you need something basic. Hotjar's reports have shown to have high response rates.
Hotjar isn't the cheapest option among web analytics alternatives. They offer a forever-free plan, but the paid subscriptions are pretty expensive. Hence, Hotjar may not be suitable for occasional use if you are on a tight budget. Still, this platform suits most small businesses looking for ways to optimize conversion rates.
Mouseflow is web analytics software that records user activity to help digital marketers, UX/UI designers, and other web specialists evaluate website performance. It has the same core functionality as Hotjar and a few unique features.
Like Hotjar, Mouseflow provides heatmaps for tracking clicks, scrolls, mouse movements, session recordings, user feedback, and conversion funnels. Hence, you will see where users are the most and least active and how they behave. If this data doesn't help understand why people leave your website or don't convert, use polls and surveys from Mouseflow. They aren't super customizable, but maybe enough to collect feedback. Mouseflow offers frustration monitoring that automatically highlights the sessions where users had problems. This should help you detect bugs quicker and improve the user experience.
Hotjar Reviews
Here are some reviews telling what people like about Hotjar:
"Ronald Ball: The best thing about the tool is data representation. The visual presentation is constructive in understanding the metrics of information."
"Donald Wilkinson: I really love how easy Hotjar was to set up. It only took a few minutes, and now I'm automatically generating heatmaps and gathering customer feedback on my web pages."
"Robyn Barrett: We're getting powerful insights within the tool, and a decent number of user actions are uncovered."
Now let's consider what they would like to improve:
"Ronald Ball: The costing pattern is scattered, and I think they should have more categories for the pricing model."
"Donald Wilkinson: I think that on one of the sites we implemented it on, it slowed things down a little. So, I would improve this aspect."
"Robyn Barrett: We would like to have sections to add comments in the feedback, for example, or be able to group the information at an account level."
As you can see, customers are generally satisfied with the functionality offered. Nevertheless, they believe there is a room for improvement.
Mouseflow Reviews
Take a look at some reviews telling what people like about Mouseflow:
"Allyson Freeman: I've only used the Mouseflow platform for a few weeks at this point but I've found that the recordings are incredibly insightful to truly understand the customer experience as it pertains to your UI/UX."
"Carol Nelson: It is easy to get started with setting up the recording functionality. The interface is easy to use."
"Daniel Byrd: The most helpful thing about Mouseflow is being able to see the recordings and see what user behavior has been on the page and throughout your funnel."
Now, let's see what they would improve:
"Allyson Freeman: Thus far, my primary grievance is the lack of insight into embedded elements or iframe assets."
"Carol Nelson: It seems a bit random when a recording session starts and ends."
"Daniel Byrd: Sometimes, visits, and sales are not recorded, and I don't know why. I would like this error to be fixed, but maybe it's just me doing something wrong."
As you can see, people like the interface and screen recordings. But it seems that the company needs to fix the problem with recording visits and sales, as there are several people stating they faced the same problem.
Hotjar Case Studies
Let's now take a look at several case studies of Hotjar:
Directive Consulting (performance marketing agency for software companies). Garrett Mehrguth (CEO) says that they improved their landing page significantly with the help of the tool. When they tested a new mobile landing page, sign-ups increased by 78%. Garrett also underlines he tried several similar tools before, but Hotjar impressed him the most.
Gogoprint. Gogoprint is an online printing service provider. They noticed a 7% decrease in page drop-off rate, that's why they decided to try Hotjar. Piriya Kantong, the marketing analyst, said that the tool gave them the needed solution. A/B testing, heatmaps, and session recordings were used.
Turum-Burum. Turum-Burum is a digital UX design agency. They wanted to simplify the customer journey and increase conversions. Maksym Chuvurin, a BA/UX designer in the company, said that Hotjar is a great tool in terms of heatmaps and session recordings. The right strategy helped them to get about a 55% increase in conversions.
As you can see, Hotjar can be used in different fields and helps to solve many problems at once.
Mouseflow Case Studies
Here are Mouseflow's case studies:
Protalus (founder – Henrik Norremark). Protalus is one of the fastest-growing footwear companies in the world. Performance was improved, and the customer journey was made easier. Pages were re-designed to provide maximal convenience, and a set of other strategies was implemented, which led to great results.
Uncruise Sydney (founder – Dan Blanchard). It is a boat hire organization located in Sydney. There was one main challenge: a bug that made it impossible to submit forms and prevented referrals. For Uncruise Sydney, Mouseflow has been a game-changer. After finding and getting rid of the mistakes, the conversion rate increased by about 150%.
Esource Parts. Esource Parts is an electronic parts distributor (the owner is Frady Yacoub). There was a problem with a fraudulent order. Thanks to Mouseflow, this and several other fraudulent transactions were identified!
All in all, Mouseflow is a reliable solution for those eager to identify bugs and improve conversions easily.
Conclusion
When deciding which website conversion tool to choose, you mostly need to consider pricing models and data limitations. The paid plans available in Mouseflow are cheaper than Hotjar's options but have a limited number of forms, funnels, and feedback. Make sure you know the volume of data you need to collect and the budget before subscribing to any plan.