So you want to know more about Hotjar and Mouseflow, right? Both tools provide website analytics functionality, including various kinds of heatmaps, session recordings, and surveys. These capabilities can help you learn more about user behavior trends on your website, detect any problems, and effectively eliminate them.
Yet despite having so much in common, Hotjar and Mouseflow still have some significant differences. They can affect your choice and make you prefer one tool over another.
Read our Hotjar vs. Mouseflow comparison to learn more about these services and decide which one you need.
| Key features / Builder | Hotjar | Mouseflow |
| --- | --- | --- |
| Overall Rating | 4.7 | 4.5 |
| Value for Money | 4.5 | 4.1 |
| Ease of Use | 4.6 | 4.45 |
| Quality of Support | 4.25 | 4.5 |
| Ease of Setup | 4.4 | 4.6 |
| Ease of Doing Business With | 4.45 | 4.6 |
| Product Direction (% positive) | 4.2 | 3.5 |
| Websites Powered (Number) | 443 022 | 28 663 |
| Number of Review | 334 | 23 |
| Year Founded | 2014 | 2010 |
| Free Trial (Days) | yes (15) | yes (14) |
| Free Plan (Time) | yes (forever) | yes (forever) |
| Number of Plans | 7 | 5 |
| Entry Level Price | free | free |
| Cheapest Plan (Monthly) | €99 | €0 |
| Most Popular Plan (Monthly) | €189 | €99 |
| Most expensive (Monthly) | €989 | €399 |
| Discounts per year | - | ≈17% |
| Heatmaps | yes | yes |
| Scrollmap | yes | yes |
| Scroll Depth | - | no |
| Multi-device support | yes | - |
| Click data segmentation by type of traffic | no | no |
| Analysis of dynamic elements | no | no |
| Data Segmentation by date | no | yes |
| Mouse Movement | yes | yes |
| Text selection | no | no |
| Sequence of clicks | no | no |
| Confetti Reports | no | no |
| List Report | yes | no |
| Real-time data | no | - |
| Eye Tracking | yes | yes |
| Goal Tracking | - | - |
| A/B Testing | no | no |
| Polls and Surveys | yes | yes |
| Survey editor | yes | - |
| Multiple question types | yes | no |
| Cross-device surveys | yes | - |
| NPS (Net Promoter Score) | yes | yes |
| Submission stats | yes | - |
| Session Recording | yes | yes |
| Recording filtering | yes | yes |
| Replay visitor sessions | yes | yes |
| Heatmaps and Recordings sharing | yes | yes |
| Conversion Funnels | yes | yes |
| Conversion Segmentation by type of traffic | no | no |
| Conversion Segmentation by date | yes | no |
| Conversion Analysis Unique page views | no | no |
| Ability to integrate | yes | yes |
| IPs blocking | yes | yes |
| Customer Support | 4.1 | 4.2 |
| Email | yes | yes |
| Phone | no | yes |
| Live Chat | yes | yes |
| Forum | yes | - |
| Knowledge Base | yes | yes |
| Support Ticket | yes | yes |
| Training In Person | no | yes |
| Training Live Online | yes | yes |
| Training Webinars | yes | yes |
| Training Documentation | yes | yes |
Generated by wpDataTables
WE ALSO RECOMMEND THAT YOU READ THE NEXT ARTICLES:
What is Hotjar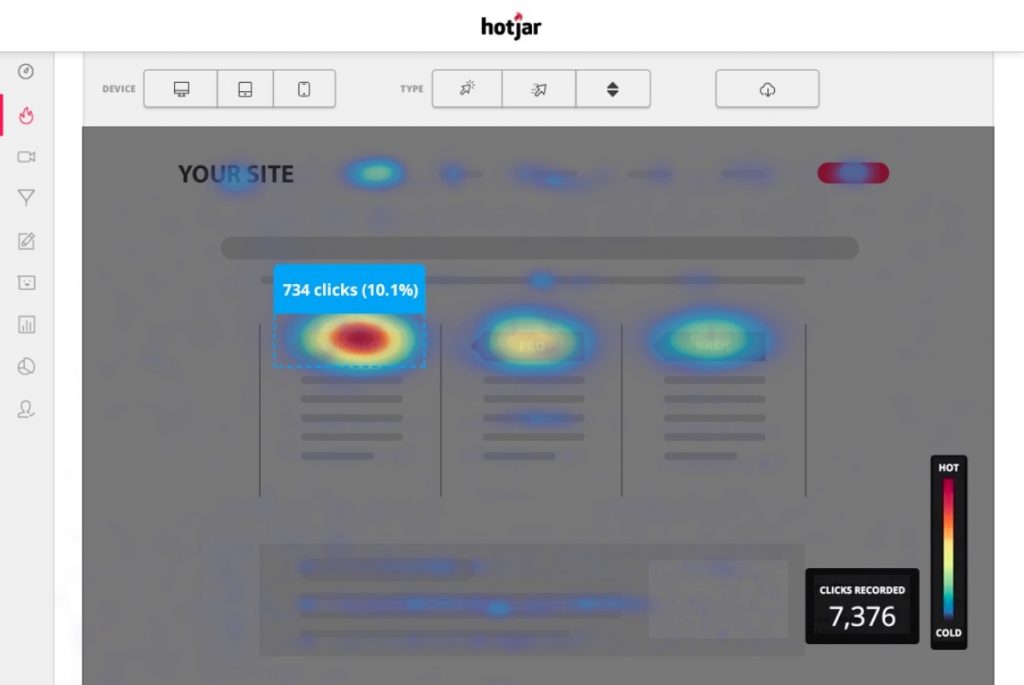 Hotjar is a website analytics tool used by over 400 thousand websites worldwide. This makes it the most popular heatmap and session recording software. Hotjar's heatmaps collect data on user clicks, scrolls, and mouse movements to convert it into page snapshots showcasing the level of user activity. Whereas heatmaps show what people do, session recordings show how they do this. There are also polls and surveys, conversion funnel visualization, reports, and other features that help with website analysis. Hotjar has an above-average pricing, so mind your budget.
What is Mouseflow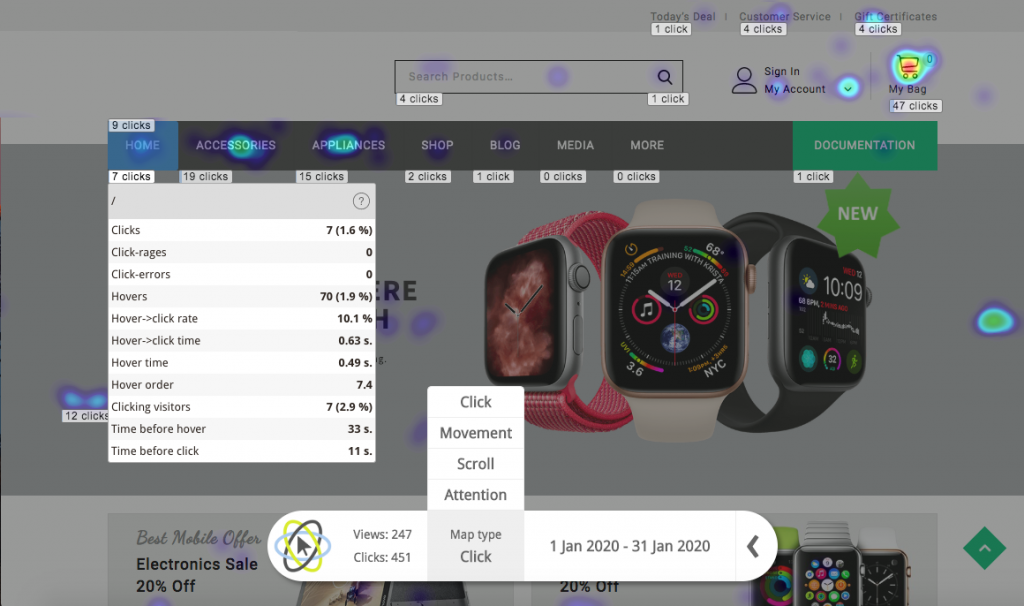 Mousflow is a website analytics tool that allows you to monitor how users behave on your web resource and improve conversion. Mouseflow matches almost every feature available in Hotjar, such as heatmaps, session recordings, drop-off funnels, forms, and user feedback. They do work a bit differently but, generally, provide the same information about websites. You can view aggregate data on heatmaps, watch session recordings, collect on-page feedback, and benefit from many handy reports and visualizations. The key difference is pricing. Mouseflow is a great budget choice with more affordable pricing plans.
Hotjar Functionality
Click, scroll, and mouse movement heatmaps that collect data on user behavior to show how people navigate the website and what elements they interact with the most often
Session recordings you can watch like videos to see what exactly people do on your web page
Unlimited heatmap reports, session recordings, funnel, forms, and feedback in paid plans
Drop-off funnel visualization to see what percentage of visitors leave your website at different stages of the conversion journey
Surveys and polls you can place on website pages to communicate with users and troubleshoot
Comprehensive reporting and intuitive interface
Email and live chat support
15-day trial and a free forever plan
Knowledgebase, support tickets, online training, forums
Mouseflow Functionality
Heatmap feature that records the most common types of user interactions, including clicks, scrolls, and mouse movements
Session replays that show anonymized recordings of website visits. You can segment them by specific parameters to filter recordings by error type, issue, etc.
Conversion funnel visualizations and reports
Discount on paid plans for users who pay annually
Custom interactive surveys and forms for user feedback collection
Integrations with multiple platforms, including WordPress, Weebly, Wix, Magento, PrestaShop, Shopify, HubSpot, and other
Friction score that shows when website users have troubles
API for custom development available at more advanced plans
Email, phone, and live chat support
14-day trial and a free forever plan
In-person and online training, knowledgebase, support tickets, forums
Expert Opinion on Hotjar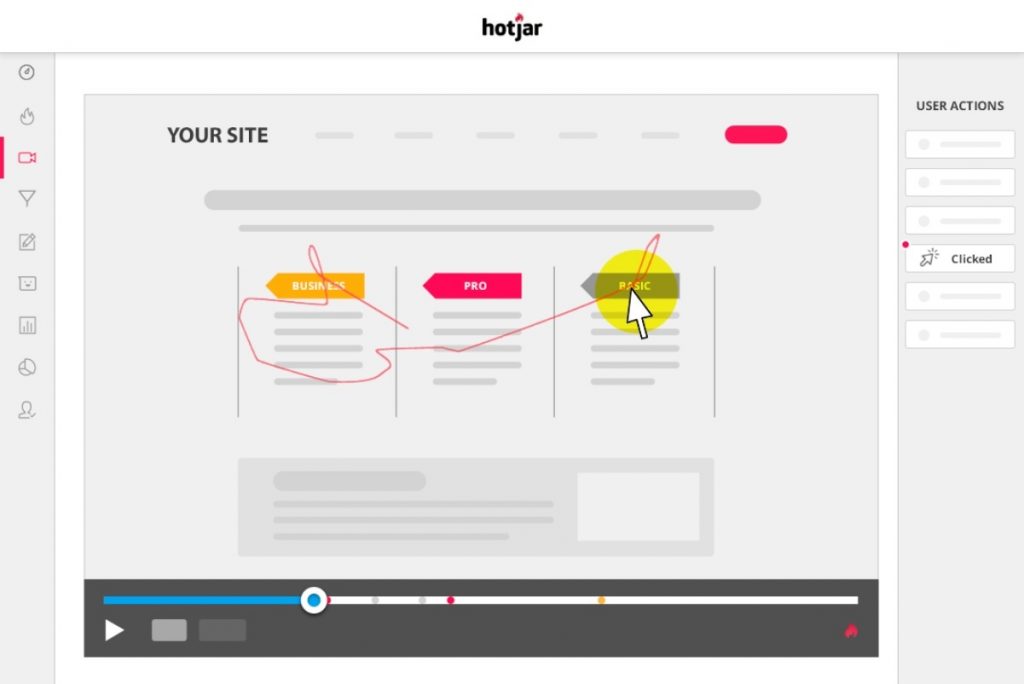 Hotjar's heatmaps stand out with rich functionality and reliability. They have great data accuracy and collect information on everything you might need to know about user behavior – clicks, scrolls, and mouse hovers. If heatmap data isn't enough to understand why people don't convert, you may use session recordings available in Hotjar. These movie-like recordings are helpful to enhance design and improve website usability, which in the long run benefits conversion. To speed up the analysis, make sure to use the segmentation provided for session recordings.
Hotjar also supports feedback collection. Although the polls would benefit from additional customization, if you need something basic, they should be enough. Actually, Hotjar's reports have shown to have high response rates.
Hotjar isn't the cheapest option among web analytics alternatives. They offer a forever free plan, but the paid subscriptions are quite expensive. Hence, Hotjar may not be suitable for occasional use if you are on a tight budget. Still, generally, this platform suits well for most small businesses looking for ways to optimize conversion rates.
Expert Opinion on Mouseflow
Mouseflow is web analytics software that records user activity to help digital marketers, UX/UI designers, and other web specialists evaluate website performance. It has the same core functionality as Hotjar and a few unique features.
Similarly to Hotjar, Mouseflow provides heatmaps for tracking clicks, scrolls, and mouse movements, session recordings, user feedback, and conversion funnels. Hence, you will be able to see where users are the most and least active and how they behave. If this data doesn't help to understand why people are leaving your website or don't convert, you can use polls and surveys available in Mouseflow. They aren't super customizable but may be enough to collect feedback. Mousflow also offers frustration monitoring that automatically highlights the sessions where users had some problems. This should help you detect bugs quicker and improve user experience.
Mouseflow is cheaper than most of its alternatives, including Hotjar. It offers a free plan and a 14-day trial for those to want to test the tool. Still, you should note that Mouseflow limits the number of reports, surveys, and form analytics in most plans. For the rest, Mouseflow is a worthy alternative to Hotjar.
Hotjar Reviews
Here are some reviews about Hotjar.
What do you like about Hotjar:
Visitor recordings is my favorite feature. I use it to see how visitors interacted with my web resource to improve usability and performance. Besides, Hotjar is a breeze to install. You just need to copy the necessary piece of code and paste it on your website or app. I like that I did it myself without the help of tech specialists. Another thing I like is that Hotjar has a free version and tons of handy features. I've been using it for several months and it meets most of my needs so far.
I find it very easy to set up and the interface is intuitive. By the way, you can install the tracking code of Hotjar through Google Tag Manager. It has a ready tag for that. Also, this platform is GDPR compliant, so you won't need to worry about personal data processing.
Hotjar provides amazing heatmaps. You can track user behavior on desktop, mobile, and tablet to adapt your website design to different target groups. Actually, with its help, we've found out that several buttons on our mobile website version were ineffective. They confused users and had almost no clicks. After we've removed them, the conversion rates improved.
The full feature offering is great. We use heatmaps to run general website analysis and evaluate user activity. When something is wrong (e.g., people ignore a button or CTA), we check session recordings to understand what may be the reason. Session replays are usually enough to detect what makes users leave and fix the problem. The freemium model they offer is something every startup and small business would appreciate.
I like that Hotjar allows you to create polls based on any page and collect contact information from customers. This helped us improve our customer support.
What would you improve:
More data segmentation options. It's often difficult to find the necessary information and I spend a lot of time browsing the tool/
They should create more features for mobile devices users. It would be great to navigate and configure tests remotely.
It doesn't track 100% of traffic automatically. They also should add more notifications for users with agency accounts since it's quite challenging to manage them.
Several times Hotjar loaded the wrong image. It allows you to load a new snapshot but this feature doesn't always work.
Hotjar is too expensive for me. They should provide some discounts for long-term users. This platform also doesn't record interactions with dynamic elements and I have a lot of them on my website.
Mouseflow Reviews
Here are some reviews about Mouseflow.
What do you like about Mouseflow:
I can toggle between several devices to see heatmaps for smartphone and desktop users, for example. Their team is regularly updating the tool with new features. My experience with Mouseflow's customer support is also good. I contacted them with a query, and it was shortly resolved.
It lets you become closer to users and understand how they behave on your website. You get a chance to see what they click and how they move. Most analytics tools generate statistics, whereas this one supplies you with quality visualizations.
The session replay feature is the reason we subscribed to Mouseflow. We use it to optimize our website and see how users react to updates. I also like frustration monitoring. This feature highlights sessions during which people experienced some problems. This considerably simplifies monitoring.
I like funnel visualization. It's easy to set up and informative. You can find out what portion of visitors leave the website at different stages of their journey and do something to make them stay. The UI is clean and easy-to-understand. Most importantly, Mouseflow doesn't slow down your website.
Our team uses Mouseflow's friction score to prioritize web development work. It's useful to understand where website visitors have a poor experience and focus on these pages. Mouseflow also has great segmentation capabilities and allows you to see how specific user segments behave.
What would you improve:
I'd like to record website visits from people who are browsing my website from a set location (e.g., country) or traffic source. The platform should add more features that would help to collect demographic data for target audience analysis.
They have too many data limitations on paid plans. Mouseflow should increase the number of funnel reports.
You cannot buy additional credit for a specific month only. Sometimes, I run out of data and would like to pay-as-YOU-go, but that's impossible.
It would be useful to disable recordings for certain IP addresses and countries. Mouseflow collects a lot of information we don't actually need, so we end up wasting time on data segmentation and watching irrelevant recordings.
I'm not a fan of their pricing model. Too many limitations. Besides, the installation process should be better guided. I installed the tool but wasn't sure I did everything properly and collected the necessary data.
Conclusion
Hotjar and Mouseflow have a lot in common. Both tools provide click, scroll, and mouse movement heatmaps, include session replays, and allow you to place surveys. Although there are some differences in how these features work, they are not significant.
Thus, deciding which website conversion tool to choose, you mostly need to consider pricing models and data limitations. The paid plans available in Mouseflow are cheaper than Hotjar's options but have a limited number of forms, funnels, and feedback. So make sure you know the volume of data you need to collect and your budget before starting any subscription.