If you're a digital marketing expert or a website/online store owner, you've probably heard of Hotjar or Lucky Orange. Both are great tools for collecting visitor data and providing valuable insights into user experience (UX). Run by Mohannad Ali, CEO of Hotjar, Brian Gruber and Danny Wajcman, the founders of Lucky Orange, these solutions have grown popular on the market. So, if you are looking for a way to understand the UX of your website, then Hotjar and Lucky Orange are the right tool options. Of course, you should learn how to analyze data because it can be challenging 📙. In this article, I will go through the advantages and disadvantages of Hotjar and Lucky Orange so that you can determine which is best suited for your needs.
What are Hotjar and Lucky Orange?
Hotjar is an all-in-one analytics and feedback (NPS survey) platform. It offers a comprehensive suite of tools that enable website owners to capture, monitor, and analyze user behavior and feedback. With Hotjar, you can track user interactions, track mouse movements, record user sessions, collect user feedback, and generate heatmaps. Hotjar also offers a powerful analytics engine that helps you measure user engagement and retention. Not in vain, it is trusted by more than one million websites, including Panasonic, Microsoft, InVision, HubSpot, Unbounce, and others.
On the other hand, Lucky Orange is a web analytics and usability testing platform. It helps you gain valuable insights into visitor behavior and user experience. It also offers heatmaps, live chats, polls, surveys, and more. With Lucky Orange, you can track user clicks, monitor mouse movements, and view user recordings. It also has an intuitive dashboard that helps you understand user behavior in real time. More than 300,000 websites run the tool. Among them: Nextiny, ApproveMe, MTL Art Shop, and others.
I recommend that you read the next articles:
The goal of today's article is to compare these two tools. I will evaluate both and provide user opinions regarding them.
What is Hotjar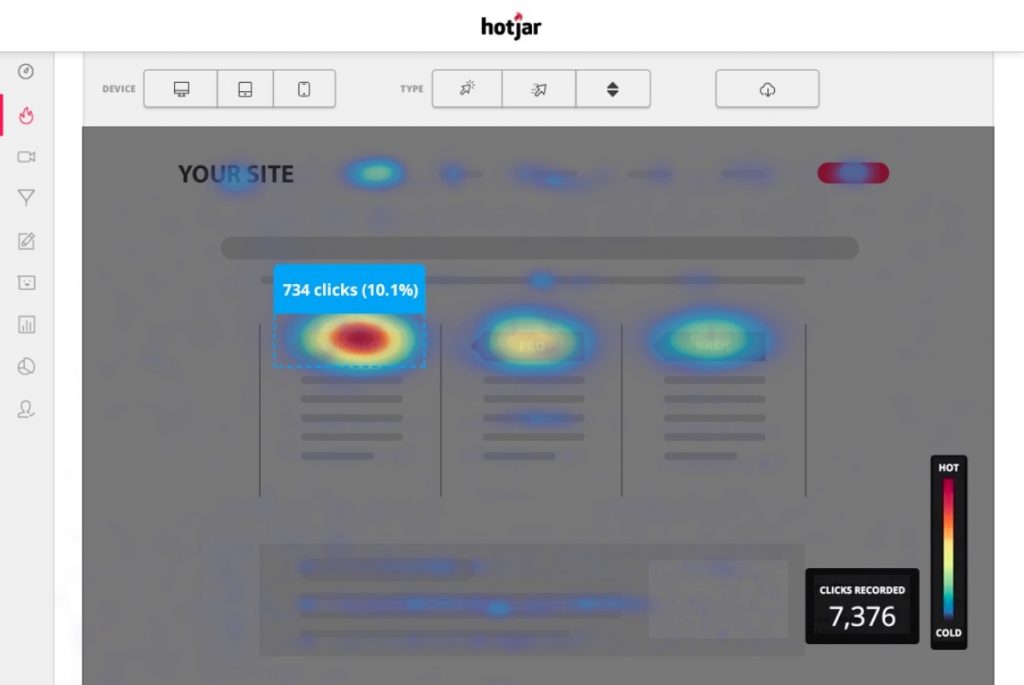 This service is an all-in-one toolkit with heatmaps, session recordings, surveys, and incoming feedback collection. It provides color-based heatmap snapshots that show what website elements are clicked, scrolled, and hovered the most often. If this information is insufficient, Hotjar empowers you to ask customers what they think about the website directly. A forever-free plan is another significant benefit of this tool.
Hotjar Functionality
Click, scroll, and mouse cursor heatmaps that display how users interact with website pages in snapshots
Session recordings to view the navigation path of website visitors in a video format
Customizable forms and polls to collect feedback or generate leads.
Simple interface and quality usability
Data collection on mobile devices that enables you to track visitor behavior both on desktop and mobile website versions
Multiple integrations supported
Funnel visualization
Scalable pricing plans. Pricing changes depending on the number of pageviews
As you can see, the functions offered are pretty good and seem to be enough. Let's now take a look at the Lucky Orange tool.
What is Lucky Orange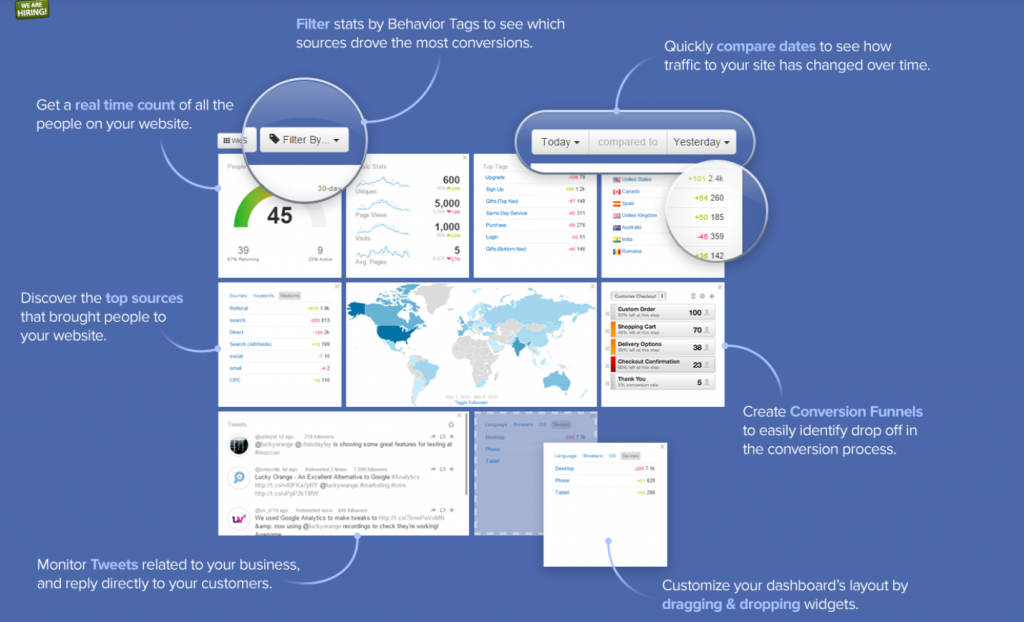 Lucky Orange is a website conversion tool that includes heatmaps as a part of its core functionality. Like Hotjar, it provides session recordings and polls for deeper website analysis. In addition, LuckyOrange has live chats and a powerful analytics dashboard where users can view traffic sources, compare statistics, and see what keywords, locations, languages, and other factors drive the most traffic. However, whereas Hotjar is mostly a user behavior analytics service, Lucky Orange focuses more on conversion funnel optimization.
Lucky Orange Functionality
Heatmaps that show how people browse the website and interact with it
Heatmap data segmentation by location, date, browser, mobile users, and other parameters
Comprehensive dashboard where you see how many people are currently on the website, where they come from, what pages are visited the most often, etc.
Live chats with website visitors that allow you to instantly solve customers' problems while they're still browsing web pages
Session recordings that capture every move of website visitors, including dynamic and member-only pages
Conversion funnel visualization to identify when visitors drop off and find out how to prevent this
Heatmaps, data segmentation, and live chats with visitors seem to be enough for basic work. What are the expert opinions on both tools? Let's consider them further👇
Expert Opinion on Hotjar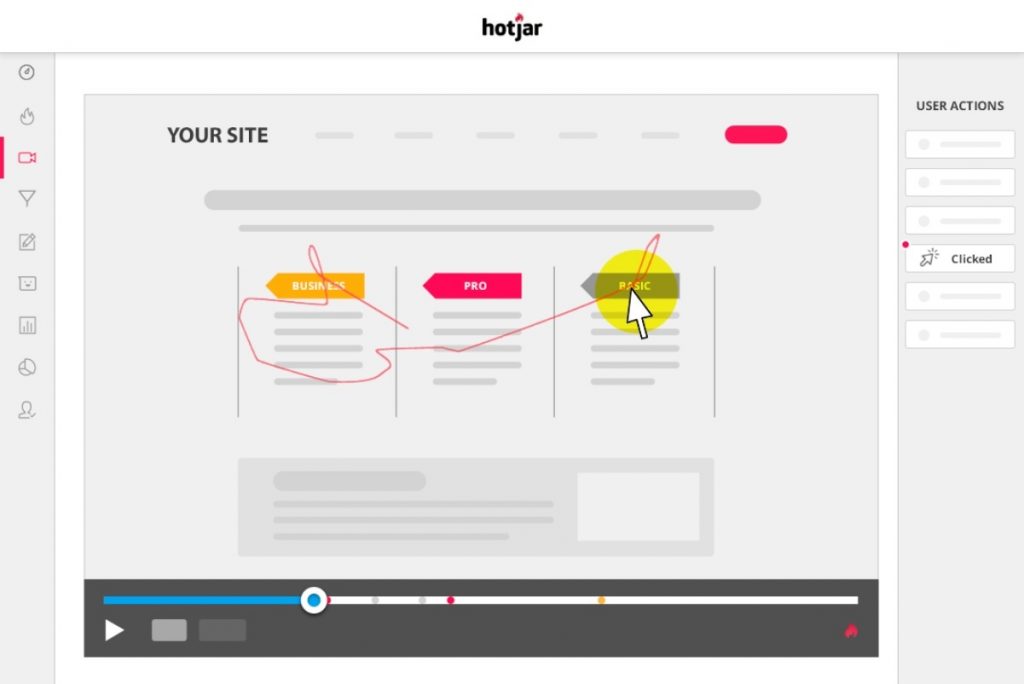 Hotjar is a gold standard of web analytics. It offers detailed heatmaps with an intuitive design that people like so much. These heatmaps will become a great asset to UX/UI designers, SEO specialists, and digital marketers who are to evaluate a website's usability and determine the best ways to locate content. The only pain point is that Hotjar doesn't collect data on dynamic elements. Thus, users are not always able to track everything they need.
Although Hotjar has become famous for its heatmaps, it has a range of other web analytics features. Surveys and polls are among them. For example, if you find that the heatmap data isn't enough to decide what affects user behavior, collect feedback right from website visitors. It may be useful to watch session recordings. These are realistic movies Hotjar generates based on collected data to show the navigation journey of website users.
If you decide to choose Hotjar, mind the budget. The tool is more costly than its alternatives and may not suit individual use. As an option, start with a free Hotjar version to decide whether you need it. Then, once your business starts growing, easily switch to a more advanced plan.
Expert Opinion on Lucky Orange
Lucky Orange positions itself as a tool for website conversion optimization. I would divide its features into two broad categories – web analytics and live chats. Such a mixture of features helps to understand what happens on a website and immediately take steps to fix problems.
The web analytics capabilities of Lucky Orange include dynamic heatmaps, session recordings, conversion funnel visualization, and a bunch of detailed reports. This functionality is enough to see what people do on a website, generate some statistics, and analyze them. Whereas heatmaps show what users click, recordings help to understand what makes them behave like this. Visualizations and statistics help view the aggregate data.
The best thing about Lucky Orange is real-time analytics and chats. See what people are doing at this moment and initiate direct chats with them. The worst is probably usability and design. Lucky Orange isn't intuitive enough and may be confusing sometimes. Since the tool targets a broad non-tech audience, its creators should do something about usability.
Overall, Lucky Orange is a very well-priced option with rich functionality.
Pros and Cons of Hotjar and Lucky Orange
When comparing Hotjar and Lucky Orange, there are a few key things to consider.
First, Hotjar is an all-in-one platform, which makes it easier to use and manage. It has a powerful analytics engine and various features for tracking user behavior. Additionally, Hotjar is easy to set up and use, and the user interface is intuitive and straightforward.
However, Hotjar is not free, and it can be quite expensive. Additionally, it doesn't offer as many features as Lucky Orange.
On the other hand, Lucky Orange is a more affordable option and has more features than Hotjar. It offers more robust analytics and usability testing capabilities and is easier to set up and use than Hotjar. Additionally, Lucky Orange's dashboard is intuitive and easy to navigate.
However, Lucky Orange is not an all-in-one platform, and it doesn't have an integrated analytics engine.
Best Practices for Using Hotjar and Lucky Orange
Once you've decided which platform to use, there are a few best practices to remember. First, it's important to set up Hotjar and Lucky Orange properly. To do this, you'll need to create an account, install the tracking code on your website, and configure the settings. This will ensure that you collect valuable data and insights about your website's performance.
Next, you should use the analytics and feedback tools Hotjar and Lucky Orange offer. With Hotjar, you can track user interactions, record user sessions, and generate heatmaps. With Lucky Orange, you can track user clicks, monitor mouse movements, and view user recordings. Utilizing these tools gives you valuable insights into your website's performance and user experience.
Finally, it's essential to review the data and insights collected by Hotjar and Lucky Orange. By analyzing the data, you can identify areas for improvement and optimize your website for a better user experience.
Hotjar Reviews
Here are some reviews about Hotjar.
What do you like about Hotjar:
William Jackson: "Recordings are what we use Hotjar primarily for as they show full user sessions, and this cannot be obtained from any other tool. Hotjar helped me to increase performance 2.5x"
Paul Osborne: "Hotjar provides many tools such as Heatmap, Session replay, and User feedback which all are the best in class. But I especially like User feedback as it is easy to share and collect data from customers. It helped us to increase the number of visitors by 60%!"
Marsha Eaton: "+55 conversion rate: this is our result. Hotjar provides invaluable website visitor data, which helps refine how pages are designed and how visitors travel throughout the site's varying pages."
What would you improve:
William Jackson: "The other features, apart from recordings, are limited in giving value currently. We don't use other features as much."
Paul Osborne: "There is nothing to dislike about Hotjar, as it works as promised. All pricing is affordable, and it is easy to integrate with any website."
Marsha Eaton: "The free tools available are sparse and have limited tracking abilities."
So, numerous positive aspects do not mean there is nothing to improve. User reviews show that there are still some weaknesses.
Lucky Orange Reviews
Here are some reviews about Lucky Orange.
What do you like about Lucky Orange:
William Jackson: "Lucky Orange gives me insight into who's visiting my store at the current moment and over the past several days. I can see how people arrived, where they clicked, and get a feel for what content and layouts work and don't on my site. Now, I can see that number of visitors has increased by about 20 percent."
Paul Osborne: "I love how simple the UX experience is and the ability to view in-depth heat maps of a website. The conversion rate has increased: +132!"
Marsha Eaton: "I love how it gives you all these great tools to track your website and your customers purchasing journey."
What would you improve:
William Jackson: "The new version is clunky. It's "pretty" but just extremely glitchy."
Paul Osborne: "There was a slight learning curve, and the individual data could be more centralized. But in general, the tool is very easy to use."
Marsha Eaton: "Some things about seeing the recordings are confusing, so I would improve it a little bit so that even beginners like me can understand everything."
As we can see, Lucky Orange can be really helpful when it comes to improving a website, be it an online store or any other option. But it is a little bit difficult for some people to learn to use it.
Hotjar Case Studies
We have gathered some case studies to show you how both tools were used in practice. They may help you make the right choice.
TomTom
TomTom is an independent navigation company that considers feedback and behavior tools really important, and they found those in Hotjar. Hotjar helped them to analyze user behavior and make the website work better, bringing a 49% increase in conversions. Dave Powell, a conversion specialist at the company, says this tool is an irreplaceable one. It really helped them to adapt to people's needs.
Spotahome
Spotahome is a convenient platform for rentals. Sara Parcero-Leites, a customer knowledge manager, says that they especially like the tools like heatmaps, feedback tools, recordings, and surveys. They use Hotjar on a daily basis, which is impressive. Hotjar parties take place at the company, where staff watches Hotjar session recordings.
Vimcar
Vimcar is a leading fleet management software. They needed a relaunch, so they tried Hotjar to control the process. Anna Grunanger, Head of Acquisition, said it was a great experience. They now understand their clientele better. They used Hotjar to improve website optimization by 92%! Can you imagine that?🤩
As you can see, Hotjar is helpful both for companies and individuals. It can really do miracles for your business. I've provided you with only a few successful cases of Hotjar. But you can discover many more on their website.
Lucky Orange Case Studies
It's high time to take a look at several Lucky Orange case studies! I have selected two companies that had a wonderful experience with the tool.
Approve.Me
ApproveMe.com is a well-known creator of The Document Signing Experience™, with which all the boring documents are boring no more. These guys had problems with checkout pages (and several other difficulties). Lucky Orange helped them to look at the website from the customer's perspective and fix everything that could spoil the pleasure of using the website. They understood the reasons and got rid of them.
Before using Lucky Orange, we'd 'guess' if our checkout system wasn't working. We wouldn't find out until 2-3 days later that something was off (if we were lucky), – Kevin Michael Gray, ApproveMe.com Founder.
SmartBug Media
This marketing agency grew conversion rates by about eighty percent! They were interested in what people were doing on competitors' websites and wanted to save the time they spent on reports and data updates. They were impressed by heatmaps, as they helped the team to understand people better, as Juli Durante (a marketing strategist) says.
Lucky Orange case studies also look convincing, right? Visit the official website and find even more of those there.
Conclusion
Regarding website analytics and usability testing, the tools considered are among the best on the market 🌟 Hotjar is an all-in-one solution with a powerful analytics engine and an impressive selection of features. Lucky Orange is a more affordable option. So, make a choice based on your budget and needs 😉