If you are reading this article, you're probably looking for web analytics software. You may be a website owner, marketer, UX/UI designer, or SEO specialist, and want to track user behavior on a web resource.
Regardless of who you are, you definitely know that heatmaps are a reliable source of information to optimize website performance. Especially, tried and tested heatmaps, such as Hotjar and Lucky Orange. If you cannot choose between them, we offer you to check out a concise comparison. Functionality, reviews, and expert opinion should help you determine which web analytics tool is more suitable.
| Key features / Builder | Hotjar | Lucky orange |
| --- | --- | --- |
| Overall Rating | 4.7 | 4.7 |
| Value for Money | 4.5 | 4.7 |
| Ease of Use | 4.6 | 4.2 |
| Quality of Support | 4.25 | 4.3 |
| Ease of Setup | 4.4 | 5 |
| Ease of Doing Business With | 4.45 | 4.5 |
| Product Direction (% positive) | 4.2 | 3.8 |
| Websites Powered (Number) | 443 022 | 26 813 |
| Number of Review | 334 | 58 |
| Year Founded | 2014 | 2012 |
| Free Trial (Days) | yes (15) | yes (7) |
| Free Plan (Time) | yes (forever) | no |
| Number of Plans | 7 | 5 |
| Entry Level Price | free | 10$ |
| Cheapest Plan (Monthly) | €99 | 10$ |
| Most Popular Plan (Monthly) | €189 | 20$ |
| Most expensive (Monthly) | €989 | 100$ |
| Discounts per year | - | 10% |
| Heatmaps | yes | yes |
| Scrollmap | yes | yes |
| Scroll Depth | - | yes |
| Multi-device support | yes | yes |
| Click data segmentation by type of traffic | no | yes |
| Analysis of dynamic elements | no | yes |
| Data Segmentation by date | no | yes |
| Mouse Movement | yes | yes |
| Text selection | no | no |
| Sequence of clicks | no | no |
| Confetti Reports | no | no |
| List Report | yes | yes |
| Real-time data | no | no |
| Eye Tracking | yes | yes |
| Goal Tracking | - | yes |
| A/B Testing | no | no |
| Polls and Surveys | yes | yes |
| Survey editor | yes | yes |
| Multiple question types | yes | yes |
| Cross-device surveys | yes | no |
| NPS (Net Promoter Score) | yes | no |
| Submission stats | yes | yes |
| Session Recording | yes | yes |
| Recording filtering | yes | yes |
| Replay visitor sessions | yes | yes |
| Heatmaps and Recordings sharing | yes | no |
| Conversion Funnels | yes | yes |
| Conversion Segmentation by type of traffic | no | no |
| Conversion Segmentation by date | yes | no |
| Conversion Analysis Unique page views | no | no |
| Ability to integrate | yes | yes |
| IPs blocking | yes | yes |
| Customer Support | 4.1 | 4.7 |
| Email | yes | yes |
| Phone | no | yes |
| Live Chat | yes | yes |
| Forum | yes | yes |
| Knowledge Base | yes | yes |
| Support Ticket | yes | yes |
| Training In Person | no | no |
| Training Live Online | yes | no |
| Training Webinars | yes | no |
| Training Documentation | yes | yes |
Generated by wpDataTables
We also recommend that you read the next articles:
What is Hotjar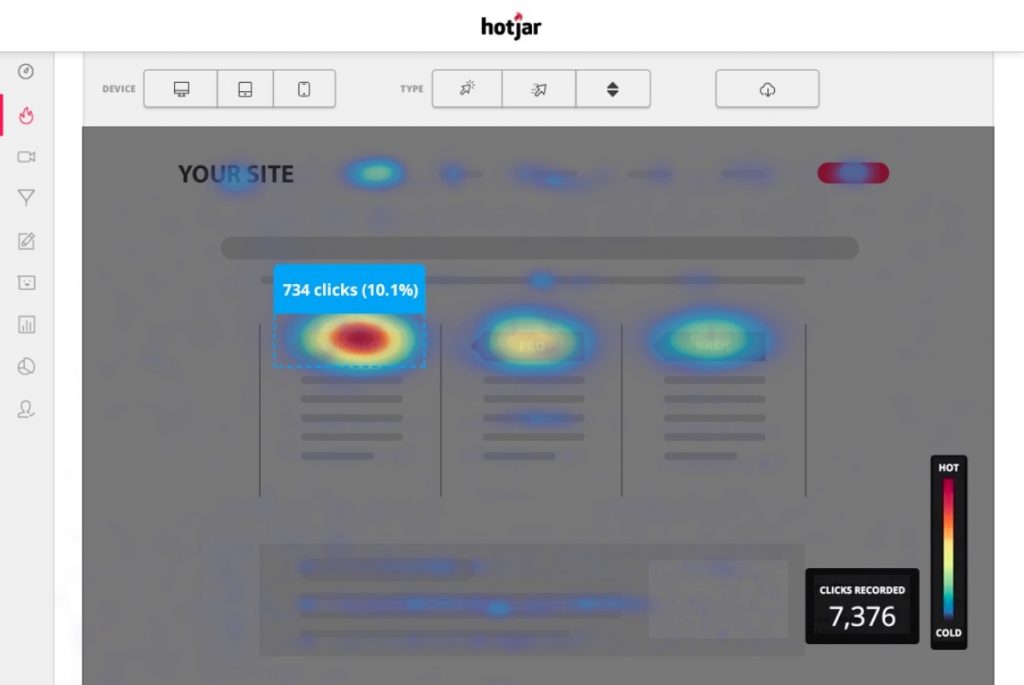 Hotjar is the most popular heatmap software powering over 400 thousand websites. This service is an all-in-one toolkit with heatmaps, session recordings, surveys, and incoming feedback collection. It provides color-based heatmap snapshots that show what website elements are clicked, scrolled, and hovered the most often. In case this information is insufficient, Hotjar also empowers you to ask customers what they think about your website directly. A forever free plan is another significant benefit of this tool.
What is Lucky Orange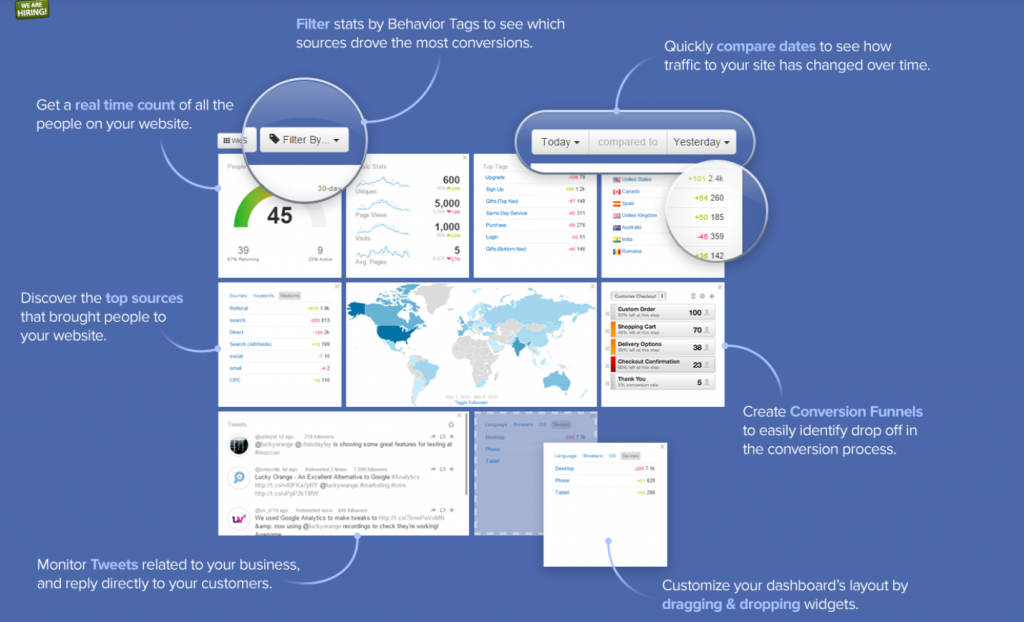 Lucky Orange is a website conversion tool that includes heatmaps as a part of its core functionality. Just like Hotjar, it provides session recordings and polls for deeper website analysis. LuckyOrange has live chats and a powerful analytics dashboard where users can view traffic sources, compare statistics, and see what keywords, locations, languages, and other factors that drive the most traffic. Whereas Hotjar is mostly a user behavior analytics service, Lucky Orange focuses on conversion funnel optimization.
Hotjar Functionality
Click, scroll, and mouse cursor heatmaps that display how users interact with website pages in snapshots
Session recordings to view the navigation path of website visitors in a video-like format
Customizable forms and polls you can use to collect feedback or generate leads
Multi-functional reports
Simple interface and quality usability
Data collection on mobile devices that enables you to track visitor behavior both on desktop and mobile website versions
Multiple integrations supported
Funnel visualization
15-day trial for all plans and a free forever plan with basic functionality
Scalable pricing plans. Pricing changes depending on the number of pageviews
Email and live chat support, forums
Lucky Orange Functionality
Heatmaps that show how people read your website and interact with it
Heatmap data segmentation by location, date, browser, mobile users, and other parameters
Comprehensive dashboard where you can see how many people are currently on your website, where they come from, what pages are visited the most often, etc.
Real-time analytics
Live chats with website visitors that allow you to instantly solve customers' problems while they're still browsing your web pages
Session recordings that capture every move of website visitors, including dynamic and member-only pages
Conversion funnel visualization to identify when visitors drop off and find out how to prevent this
Email, phone, and live chat customer support
7-day trial and affordable pricing plans
Expert Opinion on Hotjar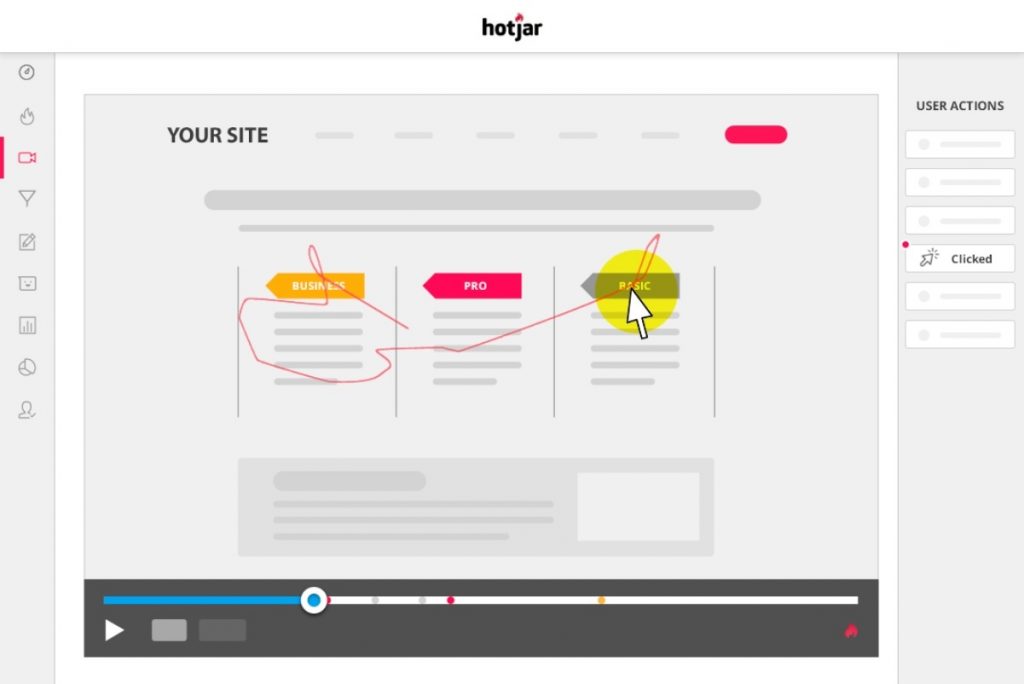 Hotjar is a gold standard of web analytics. It offers detailed heatmaps with an intuitive design that people like so much. These heatmaps will become a great asset to UX/UI designers, SEO specialists, and digital marketers that need to evaluate the usability of a web resource and determine the best ways to locate content. The only pain point is that Hotjar doesn't collect data on dynamic elements. Thus, users are not always able to track everything they need.
Although Hotjar has become famous for its heatmaps, it has a range of other web analytics features. Surveys and polls are among them. For example, if you find that heatmap data isn't enough to decide what affects user behavior, you can collect feedback right from website visitors. It may also be useful to watch session recordings. These are realistic movies Hotjar generates based on collected data to show the navigation journey of website users.
If you decide to choose Hotjar, mind your budget. The tool is more costly than it's alternatives and may be not suitable for individual use. As an option, you can start with a free Hotjar's version to decide whether you need it. Once your business starts growing, you can easily switch to a more advanced plan.
Expert Opinion on Lucky Orange
Lucky Orange positions itself as a tool for website conversion optimization. I would divide its features into two broad categories – web analytics and live chats. Such a combination helps to understand what happens on a website and immediately take steps to fix problems.
The web analytics capabilities of Lucky Orange include dynamic heatmaps, session recordings, conversion funnel visualization, and a bunch of detailed reports. This functionality is enough to see what people do on a web resource, generate some statistics, and run an analysis. Whereas heatmaps show what users click, recordings help to understand what makes them behave like this. Visualizations and statistics are helpful for viewing aggregate data.
The best thing about Lucky Orange is real-time analytics and chats. You can see what people are doing this moment and initiate direct chats with them. The worst is probably usability and design. Lucky Orange isn't intuitive and may be confusing sometimes. Since the tool targets a broad non-tech audience, its creators should do something about usability.
Overall, Lucky Orange is a very well-priced option with rich functionality.
Hotjar Reviews
Here are some reviews about Hotjar.
What do you like about Hotjar:
The JavaScript used in Hotjar is asynchronous and doesn't affect your website performance. I also appreciate that they are GDPR compliant. We can collect website data without the need to worry about any legal issues.
Hotjar provides tons of learning materials and video content with tips. For someone who has never used web analytics software before, they are critical. You can learn how to install the tool, use every offered feature, and get the most out of the functionality. There aren't many tools with the same level of customer support out there.
Polls are great for people whose websites don't have lots of visitors. We are a small digital business getting its first customers. It's not always possible to draw conclusions from heatmap data and understand trends. So we customize Hotjar's polls and place them on our pages to ask people what they think. This way we learn what new features to implement and how to build out digital marketing strategies.
We've been using Hotjar for 8 months already. It adds to the functionality of Google Analytics and provides us with deeper insight into user behaviors. Instead of pure statistics, we can see our website as it is. Understand which elements are properly placed and which would be more effective somewhere else. During this period, we've seen a significant improvement in our marketing metrics, which was largely achieved with the help of HJ findings.
Hotjar is a mature tool. It offers a perfect balance of the most important features that allow you to look at your website from different perspectives. Heatmaps visualize the collected data, session recordings and feedback explain it. The combination of these approaches is enough both to run a detailed website analysis and occasional checks.
What would you improve:
I'm frustrated because clips added on some parts of pages sometimes don't add up.
It doesn't show me when I set something wrong. For example, I configured funnels and was hoping to get some stats, but nothing happened. It would be great if Hotjar implemented some useful tips to guide users as they set up everything.
Surveys have limited customization. I need more options to collect different kinds of data from my website visitors.
Video playback speed is too slow for me. I offer review video sessions one by one and the loading takes more time than I'm ready to wait.
It's hard to check all your settings if you're an agency and set up maps for multiple clients.
Lucky Orange Reviews
Here are some reviews about Lucky Orange.
What do you like about Lucky Orange:
Pricing. Lucky Orange is cheaper than most of its competitors but the functionality is practically the same. For $20 per month, you will get session recordings, heatmaps, and up to 60,000 pageviews. It's a real catch for small businesses that need to mind their expenses.
Lucky Orange collects data on dynamic elements. Not all web analytics tools do that. It also displays information in real time, which means that you can instantly see how users interact with a web page. This makes website analysis more engaging and flexible. Once you make the slightest change, you see how it affects behavioral patterns and can keep your finger on the pulse. This saved us from poor design choices many times.
The best feature is session recordings. It records user sessions we later use to understand how to improve marketing campaigns and customer support. We like watching movies about visitor behavior as they help us connect with our leads. Besides, session recordings have handy segmentation. You can filter them by browser, source, location, device, and other characteristics to focus only on the most relevant sessions.
Live chats are my favorites. We invite customers to chat with us should they need some help. These chats are supported both on desktop and mobile devices and definitely deserve praise for the user experience they offer. You can also modify colors and text to customize them.
Lucky Orange smoothly integrates with Hubspot and the setup process is simple. It's easy to manage configurations, tags, and track notifications. Nothing to complain about.
What would you improve:
Don't know why such a great tool has a poor design. Usability should also be improved as sometimes it's hard to understand how to use it
The only thing I don't like is that historical data is limited. To access the information from the previous period, you will need to upgrade your storage. Since they provide a lot of data, you won't be able to store it all without paying additional charges. I didn't expect that.
The funnel feature is easy to understand but I find it quite useless. Well, you know how many visitors bounce and when they leave but what do do with this?
We had trouble generating heatmap reports several times. Lucky Orange needs to work on the technical glitches.
Heatmap clicks may take too much time to load.
Conclusion
Hotjar is a leading web analytics tool with advanced heatmaps, whereas Lucky Orange combines heatmapping functionality with live chats and other features. Therefore, if you seek reliable click, scroll, and move heatmaps for your website, consider using Hotjar. If you are more focused on conversion funnel optimization, Lucky Orange may suit your needs better.
Generally, Lucky Orange is considered a more affordable option. It offers the same functionality as Hotjar but with limited capabilities. Hence, the choice should depend on the scope of data you want to analyze and store.