If you are engaged in e-commerce or care about your online presence, most probably, you have already heard about SEO. Search engine optimization is a not-so-secret weapon to make a website more noticeable online and, hence, drive more traffic.
Online market leaders invest a considerable part of their marketing budgets in SEO. Yet, if you are a small company or just start working on search engine optimization, the lack of funds shouldn't discourage you. There are plenty of online SEO tools and checkers that offer free access to their SEO analysis functions. They help to enhance ranking positions in Google SERPs, build backlinks, improve the quality of content, and much more.
Such online SEO analysis software is sufficient to run an initial SEO audit of your website and detect major optimization mistakes. Fixing them may be enough to raise the positions in Google ranking and boost your SEO. Besides, you will be able to evaluate the functionality of the tested online SEO tools before starting a paid subscription. It's a great opportunity to choose the most suitable SEO software and save money.
To help you choose an optimum SEO checker tool, we have prepared an overview of the best free SEO analysis tools. It's not a rating, so we encourage you to get acquainted with different SEO tools before making your choice.
What is Website SEO?

SEO or search engine optimization is the improvement of technical characteristics and content of a website to meet the requirements of search engines and customer's needs. During this process, specialists conduct an SEO website analysis to determine the areas for improvement. They analyze the position of a website among its direct Google Search competitors and build a strategy to improve its online ranking.
Websites are also optimized for particular keywords that match their domain. This helps online users to find what they are looking for much faster since search algorithms show the most relevant resources at the top. On the other hand, optimized websites get a chance to attract better-targeted traffic that is more likely to convert.
Generally, there are 3 main types of website SEO:
On-page SEO. This subtype of search engine optimization comprises keyword analysis, online content creation, and keyword optimization.
Technical SEO. This SEO type is about optimizing site speed, crawlability, website architecture, security, and responsiveness. In other words, SEO experts perform the technical website audit to find any technical bottlenecks that affect its SEO.
Off-site SEO. This SEO strategy is all about building backlinks and increasing the website's authority for search engines.
To put it simply, search engine optimization is a sure way to improve the ranking positions of a website in SERP results. The better SEO a site has, the closer to the top it ranks.
Essential Role of SEO in 2020: Why Does Your Website Need an SEO Audit?

SEO is Google's way to establish justice in Google Search. Without search engine optimization, it would be very easy to manipulate Google ranking positions. As a result, manipulators would be shown at the top of Google, whereas the websites with engaging and quality online content would rank lower.
Thus, although SEO requires additional effort from website owners, it introduces the order in Google Search. Users receive more accurate and relevant online search rankings, whereas websites have clear directions on what they should improve to rank at the top. Even though Google doesn't share all factors taken into account by its search ranking algorithms, there are many generally approved SEO techniques. These search engine optimization strategies have proven to be effective and can help your website outperform competitors in Google.
Once you have taken steps to optimize your website or landing page for the Google Search engine, it's necessary to check the result. To do this, you will need to conduct an SEO audit using one of the professional online SEO tools.
An online SEO checker is specialized software for an automatic audit of search engine optimization. After a quick check, such a tool will show you the main SEO issues on a website and recommend how to fix them. The regular use of SEO software is essential to keep your page at the top of Google Search and make proactive SEO changes.
In addition to that, an SEO audit with online tools has several other benefits:
Enhanced customer experience. Relevant online content with a convenient structure not only attracts users but makes the navigation smoother.
More effective marketing strategy. The analysis of popular keywords can help website owners understand what online content interests their potential customers.
Optimized technical characteristics of the website. After proper search engine optimization, a website will have better speed, more convenient structure, and will generally become more stable.
Better position in the market. SEO keyword research always requires the study of online competitors to see what keywords they use to rank in Google. Good SEO should help you win over your competitors.
Remember that SEO is the foundation of equality in Google Search. Besides, it is a free way to ensure long-lasting top search results for your website. Paid search or online ads cannot do that.
How to Check Website SEO?

Even the best free SEO tools won't help your website rank higher online if you don't know how to use SEO software. There are several major characteristics you need to evaluate to know the reasons behind your current SEO ranking positions.
Just open an online SEO tracker you would like to use, enter your website address, and launch the check. Make sure to:
Perform website speed audit with online speed checkers
Most top search engine ranking tools can determine whether a website is fast enough to rank high in SERPs. They either measure website speed or indicate that online speed is something you should work on. Actually, Google openly states that site speed matters for web search ranking positions and is evaluated by Google Search algorithm. Slow websites won't rank high online. That's why you need to start your website SEO audit with a speed checker.
Check the authority and quality of your backlinks with online SEO software
Backlinks are a key off-site SEO practice with a significant influence on website search ranking positions. External links to a website show Google algorithms that the page is credible and deserves top positions online. Hence, if you want to improve your SEO, you need to analyze the existing backlinks and build new ones. Conducting an audit of the backlinks, keep in mind that the quality of backlinks is more important than quantity. It's preferable to focus on links with 40+ domain authority that are relevant to your industry.
Check metadata
You can either find your page in Google to see how it displays or use one of the online SEO analyzers. Some of them can run a quick check of meta descriptions, headers, titles, and other metadata. As an alternative, you can use the Yoast plugin if you manage your website content through WordPress. Although this plugin won't run an online audit of the entire web resource, it is quite effective for basic SEO optimization of content.
Research keywords with SEO software
The fact that you conducted keyword research with a bunch of best SEO tools and online analyzers several years ago, doesn't mean these keywords are still relevant. The trends in any industry quickly change as well as keywords and online search queries that rank best. Therefore, you need to regularly conduct small keyword research to make sure your keywords are on track. Enter the keywords in any online SEO checker that supports keyword research and see whether their popularity grows. If keywords become more popular online, you are on the right track. If not, consider selecting new keywords.
These are the main ways to analyze website SEO and ranking positions. For in-depth SEO and SERP ranking audit, you will also need to check website structure, internal URLs, old content, data markup, and online competitors. Generally, to get the overall SEO picture, free online SEO software is enough. You just need to select an SEO checker tool with the most suitable functionality.
For a full audit, SEO professionals use the combination of several best SEO analyzers and checkers. Although different online SEO tools provide distinct metrics and rely on their custom algorithms, they all evaluate website ranking potential.
Types of online tools for website SEO and SERP ranking analysis

Generally, there are 7 types of online tools for website SEO and SERP ranking analysis:
Speed analyzers. Online speed is essential to rank your website higher in SERPs. Fortunately, there are plenty of free speed checkers that can measure website load time. Try using Pingdom, PageSpeed Insights, WebPageTest, or any other alternative online checker. Apart from the ranking positions in SERPs, speed also affects user experience. A one-second delay in page loading decreases the number of page views by 11%. That's why software for online speed check is a must-use to keep your website afloat.
Backlink building tools. Backlinks heavily impact the authority, domain rating, SEO, and SERP of a website. They show search engines that your web resource is credible and takes a noticeable place among competitors. Although there are some ways to build backlinks without link building software and specialized tools, it's inefficient. You are likely to hear too many rejections and create low-quality backlinks with poor domain rating and authority. With simple tools, checkers, and analyzers, you can analyze the backlink profile of your competitors and available options. This will give you ideas on how to use link building for search engine optimization and which third-party resources can benefit your SEO, domain authority, and SERPs.
Rank tracking tools. Let's say you have finished writing content according to all search engine optimization rules. What's next? After the content is published, you need to make sure the articles and keywords properly rank on Google. To perform such analysis manually, you would need to type each keyword in Google, trying to find your pages in SERPs. Don't do that! There is a range of rank trackers that determine the exact position of a keyword in Google ranking. They show how the SERP position changed compared to the previous period and often provide the same information on competitors' websites. Some rank analyzers also allow you to download weekly/monthly reports and send email notifications.
Keyword Research tools. No need to say that keyword research is the foundation of website search engine optimization. Advanced keyword analysis software significantly speeds up the discovery phase and brings numerous other SEO benefits. In particular, keyword analyzers can show the content gaps of your competitors. This allows you to easily rank for keywords that others rarely target in their content. Besides, keyword ranking software helps to constantly keep track of trending keywords and instantly create content targeting them. It's another way to outperform your competitors and make your website rank higher in SERP positions.
SEO reporting tools. SEO reporting software is necessary for anyone who wants to rank in the top SERPs and stay there forever. The thing is that search engine optimization is a continuous process that requires monitoring and tuning-up. Such website checkers analyze website performance based on selected KPIs and regularly provide SEO reports. Besides, SEO reporting tools send the results of experiments and other valuable information. Thanks to this, you always know the state of search engine optimization and can remain flexible in your SEO strategy. The current SEO software market offers hundreds of tools with reporting functionality. You may use SEMrush, Google Data Studio, or Plerdy that supports a website SEO checker called SEO Alerts.
Competitor analysis tools. If you want to launch a successful SEO strategy, treat competitors like your teachers, not like your enemies. Competitor websites have been in your industry for a while and introduced diverse SEO ranking techniques. Use competitor SEO tracking software to learn what works for your competitors and what doesn't. With such SEO checkers, you can view the traffic, ranking positions, SERPs, backlinks, and other metrics of your competitors. A clear picture of your market segment will help you find your SEO path and use the most effective search engine optimization techniques.
Local SEO tools. Although Google ranking is global, many buying decisions happen locally. Customers who need car rental services in Paris would rather search for "car rental services in Paris" than for "car rental." Thus, in case your business is tied to a specific location, remember to use local SEO software for website optimization. Such SEO optimization tools usually comprise: an automated listings finder (to look for directory listing opportunities), functionality for automated update of all listings, review management features. You can either choose a local SEO checker that focuses on one of the listed features or pick an all-in-one website optimization tool that includes listings as one of its capabilities.
The majority of advanced online SEO checkers combine several types of the described tools. You can find SEO optimization software that evaluates your SERP rating and provides SEO analysis reporting at the same time. Below, we will go through the best free SEO tools and SEO checkers in 2020 to tell you more about their functions, benefits, and pricing.
Overview of the Best SEO Tools and SEO Checkers in 2020
Features of Plerdy SEO Analysis Software
Plerdy is a multifunctional tool for search engine optimization, UX analysis, and marketing. Getting free or paid access to this software, users instantly receive a full toolkit for website growth and promotion. As to the SEO functionality of Plerdy, the tool provides:
Functionality to check Google ranking factors, including Title, Description, H1, style attributes, tags "a" with "#" in href, etc
Keyword density analysis and other relevant keyword research data
SEO Alerts software that instantly informs you about any important SEO changes on a website
SEO errors reporting
What Makes Plerdy's SEO Analysis Software Special
Unlike other tools, in addition to SEO analysis functionality, Plerdy's software also provides custom pop-ups and heatmaps. This allows you to develop a website in all the main directions with single SEO software.
Plerdy Pricing
Plerdy's software costs from $29 to $99 monthly and offers enterprise plans. All subscriptions include heatmaps, SEO checker, and custom pop-ups.
Plerdy: Free SEO Checker
Available
Features of Moz Domain Authority Checker
Mos is online software that includes several tools and checkers for SEO analysis. The main three products are Moz Pro (tool for keyword and backlink research, technical website audit, and SEO reporting), Moz Local (software for location data management), and STAT (software for analysis and daily tracking of SERPs and competitors). You can check domain authority, page authority, linking domains, keyword difficulty, organic CTR, and other metrics.

What Makes Moz Domain Authority Checker Special
Moz analysis tool supports an online SEO Learning Center and has a strong focus on local SEO research.
Moz Pricing
The pricing starts at $99/month. Premium subscription – $599/month.
Moz: Free SEO Checker
30-day trial. Besides, Moz has a separate website section with free SEO software.
Features of Ahrefs Keyword Research Software
Ahrefs is SEO tracking software that collects all important optimization metrics in one dashboard. Using the Site Explorer feature, you can research backlinks, organic keywords, organic/paid traffic, domain rating, detailed information about competitors, and more. Besides, Ahrefs checker can be used for general site audit and content analysis.

What Makes Ahrefs Keyword Research Software Special
Ahrefs SEO checker is very handy to use and provides everything necessary to perform competitor analysis and build backlinks.
Ahrefs Pricing
The pricing of Ahrefs SEO checker starts at $99/month. The most expensive Agency plan will cost you $999/month.
Ahrefs: Free SEO Analysis Tool
You can use a backlink checker or start a 7-day trial for $7.
Features of Google Search Console Dashboard
This Google's software is one of the most renowned tools for SERP ranking analysis. It's a 100% free checker that helps website owners to monitor, troubleshoot, and maintain the position of their online resource in SERPs. With GSC you can confirm that Google crawls your website, fix indexing problems, examine backlinks, and more.

What Makes Google Search Console Dashboard Special
This search ranking tracker is supported by Google which means that it is regularly updated to follow the latest Google algorithm changes. It has a strong focus on search ranking position analysis and SERPs.
Google Search Console Pricing
It's 100% free.
Google Search Console: Free SEO Tools
Available
Features of Screaming Frog Checker
Although Screaming Frog has a quite complex interface and the learning curve, its features are worth the effort. This search engine optimization checker performs an analysis of website metadata, finds broken links, duplicate pages, or errors, and integrates with other SEO tools, including Google Analytics and GSC.

What Makes Screaming Frog Checker Special
Unlike the majority of other SEO analyzers, Screaming Frog can also be installed on a Windows, Mac, or Linux OS. Screaming Frog is an effective option if you want an SEO tracker for technical SEO research.
Screaming Frog Checker Pricing
£149.00 Per year
Screaming Frog: Free SEO Checker
Available
Features of Netpeak Spider
Netpeak Spider has a pretty simple and usable interface with an interactive dashboard on which you'll find all data based on crawling results. This crawler stops over 80 issues of website optimization such as finding broken links, images, or checking for duplicate content (pages, title, and meta description, H1s, and so on). Also, Spider checks on-page SEO parameters: redirects, robots.txt, and other 70+ parameters. And the tool integrates with Google Analytics, GSC, and Yandex.Metrica.

What Makes Netpeak Spider Special
Unlike most other SEO crawlers, Netpeak Spider has several unique features such as multi domain crawling as well as white-label reports. And inside the tool, it has enhanced errors' description with hints what type of issue this is, how to fix it, and useful links to learn more about it — it's easy to do SEO with Netpeak Spider even to newbies.
Netpeak Spider Pricing
$374.40 Per year
Netpeak Spider: Free version
Available
Features of SEMrush SEO Software Tools
SEMrush creators call this analyzer an all-inclusive SEO software. Well, this checker definitely deserves such a title. SEMrush comprises features for: SEO (keyword research, backlink building and analysis, SERP rating tracking, site audit, and on-page SEO analysis), advertising (advertising research, ad builder, product listing ads, etc), social media, content analysis (content audit, topic research, SEO content templates), competitive research with a backlink and keyword gap analysis, and reporting.

What Makes SEMrush SEO Software Tools Special
This analyzer provides a full range of tools necessary for on-page and off-page SEO analysis. It is widely used to conduct keyword research, analyze competitors, and build backlinks.
SEMrush Pricing
The price of monthly plans ranges from $99.95/month to $399.95/month.
SEMrush: Free SEO Checker
7-day trial
Features of Ubersuggest Keyword Planner
Neil Patel, a renowned SEO marketing guru and blogger, has launched a simple search engine optimization analyzer for quick website analysis. With this online software, you can view the main information about keywords, get some content ideas, analyze website backlinks, and research traffic. To access additional functions, you will need to sign in with Google. It's necessary to connect to your Google Search Console and perform a more detailed analysis.

What Makes Ubersuggest Keyword Planner Special
It's simple and pleasant to use with all the necessary basic functionality. Besides, the pricing is very affordable.
Ubersuggest Pricing
This search engine optimization analyzer will cost you $10/month or $100 yearly.
Ubersuggest: Free SEO Tracker
Available
Features of Website Grader by HubSpot
To get any information about this tool, you will need to provide your website address and email. Once you do that, you can access the basic SEO audit performed by one of the best online marketers – Hubspot. Although this research isn't enough for in-depth search engine optimization, it can determine your main pain points. Website Grader displays information on website performance, SEO, security, and shows possible steps to improve the situation.

What Makes Website Grader by HubSpot Special
The simplicity of this software and handy recommendations effectively help SEO newbies to find their way.
Website Grader by HubSpot Pricing
This software is absolutely free.
Website Grader by HubSpot: Free SEO Checker
Available
Features of Kwfinder SEO Keyword Checker
KWfinder is one of the search engine optimization tools included in Mangools' SEO toolkit. It displays search volume, keyword position, CPC, PPC, and difficulty. You can also view what your competitors rank for and find low-difficulty options to easily rank in Google's top. Just enter a keyword or domain to start the research.

What Makes Kwfinder SEO Keyword Checker Special
This online tracker has a great intuitive design and all the features necessary to conduct keyword research. Combined with other tools supported by Mangools, it allows you to run full-fledged SEO analysis.
Kwfinder Pricing
The price of the tool starts at $29.9 per month. The most expensive plan costs $79.9 per month.
Kwfinder: Free SEO Checker
Kwfinder offers a 10-day trial
Features of DeepCrawl SEO Software Platform
DeepCrawl SEO rank checker offers solutions for e-commerce, publishers, agencies, and enterprise brands. Generally, all the feature of this Google SEO analyzer are focused on the technical side of optimization. Using DeepCrawl, you can define the web crawl depth, evaluate the authority of every website page, run the analysis of internal links, and research the existing content.

What Makes DeepCrawl SEO Software Platform Special
This SEO checker tool is very handy to research the technical characteristics and crawlability of website pages. As its name suggests, DeepCrawl performs a really deep analysis.
DeepCrawl Pricing
The pricing of this search engine optimization software starts at $14/month. There is a custom plan discussed individually.
DeepCrawl: Free SEO Checker
You can get 2-week trial after a quick registration
Features of Keywords Everywhere Platform
This software solution is a Chrome/Firefox add-on for keyword research. It's a wonderful option to receive constant updates on keyword metrics, such as monthly search volume, cost per click, and Adwords competition. With Keywords Everywhere you can see keyword data right below your Google Search bar, which significantly saves time otherwise spent on navigation and copy-pasting.

What Makes Keywords Everywhere Platform Special
Keywords Everywhere SEO software is a browser add-on for quick keyword research. Although this tool isn't suitable for SEO page analysis or SERP tracking, it's a great choice to constantly get fresh keyword ideas.
Keywords Everywhere Pricing
The price is calculated for credits (1 credit = 1 keyword). The plans range from $10 to $1000.
Keywords Everywhere: Free SEO Checker
Available
Features of Long Tail Pro Keyword Rank Checker
This keyword checker measures keyword difficulty, competitiveness, PPC, and ranking to help you generate effective long-tail keyword ideas. It also performs competitor analysis based on top Google's organic positions. This allows you to compare your keywords with the keywords of your competitors and develop a more effective website promotion strategy.

What Makes Long Tail Pro Keyword Rank Checker Special
Long Tail Pro positions itself as a keyword rank checker software that specializes in long-tail queries.
Long Tail Pro Pricing
The monthly price of Long Tail Pro starts at $37. The most advanced plan will cost you $147/month.
Long Tail Pro: Free SEO Checker
7-day trial with hands-on training
Features of Mangools Google SEO Tools
This SEO software comprises 5 tools designed for the main areas of SEO research. KWfinder, which we have already mentioned on our best SEO tools list, helps to find long-tail keywords with low difficulty. SERP checker generates local SERPs to determine weak spots of your competitors. SERPWatcher is a tracking tool that monitors keyword positioning and rank in SERP positions. LinkMiner is a backlink checker that marks the URLs you may like to be linked from. Finally, the fifth tool – SiteProfiler – performs the analysis of backlinks and domain authority to show which URLs are trustworthy.

What Makes Mangools Google SEO Tools Special
Mangools software covers the key domains of SEO research. It's easy to navigate and clearly shows what needs to be tracked on your website.
Mangools Pricing
The price of the software starts at $29.9 per month. The most expensive plan costs $79.9 monthly.
Mangools: Free SEO Checker
All Mangools' SEO tools have a 10-day trial
Features of Marketmuse SEO Content Tool
Unlike the majority of other best SEO checkers listed in this overview, Marketmuse focuses on content. Fair enough, content is an essential component of on-page SEO. To help you write the articles that rank, this content optimization tool covers the entire content creation life-cycle. It provides functionality for content research (topic analysis, competitive research), planning, creation, and optimization.

What Makes Marketmuse SEO Content Tool Special
Marketmuse has unique functionality for content writing. Its natural language generation feature allows you to automatically draft the content of the future article based on the chosen topic and brief.
Marketmuse Pricing
This content creation tool is quite pricey with the lowest plan offered for $399/month.
Marketmuse: Free SEO Content Checker
Available
Features of AnswerThePublic Content Ideas Generator
This analyzer of Google Search suggestions provides useful insights into user queries. Once you enter a keyword, AnswerThePublic generates the related questions people are likely to type in Google. This information may be useful to understand what problems website users are trying to solve with your content. The relevance of content is crucial to rank it in Google's top positions.

What Makes AnswerThePublic Content Ideas Generator Special
This tool builds great high-resolution visualizations of data.
AnswerThePublic Pricing
$99/month
AnswerThePublic: Free SEO Content Checker
Available
Features of AuthorityLabs SEO Rank Tracker
This tracking software monitors your domains in every country and language supported in Google, Yahoo, and Bing. The tool displays zip code and city data for every domain. Besides, you can separately check your website rank in mobile, desktop, and tablet SERPs. Competitor research and white labeling are additional features provided by AuthorityLabs.

What Makes AuthorityLabs SEO Rank Tracker Special
This keyword position tracking tool includes unique Not Provided reports which show what terms people use to find your website on Google. Besides, AuthorityLabs is well-tailored for local SEO optimization.
AuthorityLabs Pricing
The most basic plan (Plus) costs $49/month. The most expensive one – $450.
AuthorityLabs: Free SEO Checker
30-day trial period
Features of Advanced Web Ranking Tool
Although anyone can benefit from this keyword rank checker software, it looks like SEO specialists and agencies are the main target audience. Advanced Web Ranking (AWR) offers white labeling and advanced SEO reports. These reports are based on Google Search Console metrics and AWR's findings. You can also conduct detailed research on SERP positions and rank tracking.

What Makes Advanced Web Ranking Tool Special
AWS provides broad Google rank tracking capabilities and extended white labeling. Therefore, it's a great option if you need customizable SEO reports.
Advanced Web Ranking Pricing
The starter plan costs $49/month, whereas the most advanced subscription starts at $499/month.
Alexa SEO Site Checkup: Free SEO Checker
30-day trial period
Features of SERPstat SEO Platform
This platform for search engine optimization comprises functionality for position tracking (SERP research, SERP historical data, traffic distribution, local search), backlink analysis (competitors' backlinks, backlinks domain authority), keyword research, and website audit. You can also run competitor research to evaluate your competitors' strategy and see what they do to rank higher.

What Makes SERPstat SEO Platform Special
It's an all-in-one toolkit that includes the main resources necessary for a solid website SEO audit. SERPstat also provides extensions for popular browsers, including Chrome, Firefox, and Opera.
SERPstat Pricing
The Lite plan costs $69/month. For the most advanced functionality, you will be charged $499/month.
SERPstat: Free SEO Checker
Available
Features of SanityCheck Google Keyword Checker
This keyword research software allows you to get the most of your Google Search Console data. The tracking tool increases the volume of GSC data you can view, generates reports with content ideas, and provides recommendations on how to improve the CTR of existing content. Besides, in SanityCheck, you can set up tests to see how website changes affect page position, clicks, and CTR.

What Makes SanityCheck Google Keyword Checker Special
SanityCheck software enriches GSC data and additionally automates keyword research.
SanityCheck Pricing
The pricing ranges from $19/month to $69/month.
SanityCheck: Free SEO Checker
14-day trial
Features of Siteliner SEO Page Analysis Software
This SEO research tool offers users to immediately start with their website analysis. After you enter the URL, Siteliner scans the online resources for duplicate content and compares them with competitors. You can find out the average number of words per page, content types, internals links per page, and other metrics.

What Makes Siteliner SEO Page Analysis Software Special
It's extremely simple. Although Siteliner isn't suitable for in-depth SEO research, it can help you quickly estimate the overall situation with your website pages.
Siteliner Pricing
The tool is 100% free.
Siteliner: Free SEO Checker
Available
Features of SpyFu SEO Competitor Analysis Tool
With this software, you can carry out profound competitor research. Just enter any domain and see how it ranks in Google, including Adwords results and organic traffic positions. You will find out what search engine optimization strategies your competitors use and instantly get lists of keywords that rank best. SpyFu also allows users to find any keyword and see the backlinks and sites that can make it rank higher.

What Makes SpyFu SEO Competitor Analysis Tool Special
It's an ideal option for quality competitor analysis with detailed information and handy statistics on every competitor.
SpyFu Pricing
The Basic plan costs $39/month. The first month of the Professional plan also costs $39/month, but for the next months you will be charged $78/monthly.
SpyFu: Free SEO Checker
Available
Features of Varvy Rank Tracker
In addition to the functionality for quick SEO research, Varvy page checker also provides useful page optimization guidelines. It evaluates Googlebot access, responsiveness of website pages, security, accessibility, page speed, and robots.txt availability. For each of the tested categories, Varvy provides recommendations on page optimization.

What Makes Varvy Rank Tracker Special
This page checker is supplied with great practical recommendations and search engine optimization tips and tricks.
Varvy Pricing
According to its creators, Varvy tools are free for the main three reasons: a book store, a dude met in Puerto Rico, and a sailboat.
Varvy: Free SEO Checker
Available
Features of Whitespark Local SEO Software
This SEO checker helps to find any mentions of a company online. Such citations affect local SEO ranks and are critical to promoting an online resource locally. You can see what competitors rank the highest for your location and explore their backlinks. Their backlink profile may help you understand how to build your own links and improve the SERP positions. Whitespark also allows you to find different variants of a keyword based on your location. You can make notes right in the tool to remember all your observations and findings.

What Makes Whitespark Local SEO Software Special
This rank tracking tool has fantastic personalization and a strong focus on local SEO. Small businesses can considerably benefit from such local SEO audit software.
Whitespark Pricing
The cheapest paid subscription costs $20/month. The most expensive plan – $100/month.
Whitespark: Free SEO Checker
Available
Features of Woorank SEO Audit Tool
This software is a handy solution for a comprehensive SEO audit. Use it both to analyze the existing content and understand what future changes can help to rank better than competitors in Google's SERPs. Woodrank allows you to evaluate on-page SEO (content, attributes, tags, etc.), page indexing, mobile responsiveness, data structure, and security. It also checks domain authority, the quality of backlinks, and clearly shows why your web page cannot rank in Google's top positions.

What Makes Woorank SEO Audit Tool Special
This tool has extensive functionality for quick SEO audits that don't require registration. Although such research has some limitations, it's enough to evaluate the overall situation with Google ranking positions.
Woorank Pricing
The cheapest subscription starts at $59.99/month, whereas the Enterprise plan is discussed individually.
Woorank: Free SEO Checker
14-day trial
Features of Wordtracker Keyword Rank Checker
This keyword rank tracker is designed specifically for keyword research. Use it to understand what terms are trending today and how many competitors try to rank for them in Google's SERPs. In this tracker, you can also create custom lists and compare several SERP positions to get the bird's eye view on your SEO.

What Makes Wordtracker Keyword Rank Checker Special
Dedicated to rank and search volume tracking, this tool is a decent option to carry out keyword research.
Wordtracker Pricing
For the Bronze plan, get ready to pay $27/month, whereas the Gold one will cost you $99.
Wordtracker: Free Keyword Rank Tracker
7-day trial for each of the available plans
Features of Browseo Audit Tool
SEO optimization isn't the main focus of this tool. Nevertheless, Browseo can show you how your online resources look for search engines and highlight the parts of the page that impact SEO (e.g., links). By using this website audit software, you can analyze the metadata, backlinks, SERPs, and structure of the page.

What Makes Browseo Audit Tool Special
It's a web application that provides a clear analysis of content. You can see how the website looks without styles. No downloads or installation needed.
Browseo Pricing
The page audit tool is 100% free.
Browseo: Free SEO Checker
Available
Features of Majestic Online Backlink Checker
The main purpose of the online backlink tracker designed by Majestic is backlink research. This tool analyzes your backlink profile backward and forward, providing detailed statistics on external links, referring domains, crawled and indexed URLs, etc. Besides, you can determine if two websites have similar URLs, compare the metrics of your page with your competitors, and track your favorite web resources to learn from them.

What Makes Majestic Online Backlink Checker Special
This tracker has everything necessary to check the backlinks of your page and analyze the backlink profile of your competitors. Note that links are essential to rank in top SERPs.
Majestic Pricing
The Lite subscription plan costs $49.99/month. The most expensive one (API subscription) costs from $399 to $1599 monthly.
Majestic: Free SEO Checker
Available
Features of PowerSuite Site Audit Tool
This search engine optimization software focuses on 6 main fields: page rank monitoring, backlinks analysis, keyword research, on-page SEO (site audit and content optimization), competitor analysis, and reporting. Moreover, you can create white-label reports in HTML and PDF and provide them to a third-party. That's why PowerSuite is a great option for SEO agencies and specialists looking for the best SEO checkers.
What Makes PowerSuite Site Audit Tool Special
This page audit software works on Windows, iOS, and Penguin OS. Besides, it supports white-label reports, which makes it a great choice if you are an SEO agency or need reports for presentations.
PowerSuite Pricing
Apart from the open-access option, there are two paid subscription plans – Professional (for $299/year) and Enterprise (for $699/year).
SEO PowerSuite: Free SEO Audit Tool
Available
Features of ScrapeBox Search Engine Optimization Tool
Scapebox's toolkit includes 4 major features: Search Engine Harvester (collects thousands of URLs from Google, Yahoo, and Bing to generate lists of URLs that match your keywords and niche), trainable Blog Commenter (can post comments or your blog or other platforms), Proxy Harvester, and Keyword Scraper (collect keyword suggestions from many popular services).
What Makes ScrapeBox Search Engine Optimization Tool Special
It's a one-time purchase or, in other words, you pay only for the software license and continue using it for SEO audit as long as you need it.
ScrapeBox Pricing
The license for this SEO audit software costs $97.
ScrapeBox: Free SEO Checker
Scrapebox can be freely used after you purchase the license.
Features of SEO Site Checkup Software
With this page analysis tool, you can scan website SEO, speed, security, and responsiveness. It tests metadata, determines the most common keywords used on the page and related terms, analyzes competitor domains, and a range of other SEO-related factors. You can also view how your page looks on a mobile device to understand whether it meets the demand of the mobile-friendly approach.

What Makes SEO Site Checkup Software Special
This software product provides highly detailed information and can be white-labeled.
SEO Site Checkup Pricing
The Basic plan costs $24.95/month and the most advanced one, Professional – $79.95/month.
SEO Site Checkup: Free SEO Checker
14-day trial
Features of SEOptimer Ranking Software
This SEO ranking tool analyzes web resources in 5 five main domains SEO, usability, performance, social connections, and security. Just enter your page URL in the search bar to check the quality of its metadata, determine the main keywords used on the page, and the ranking potential of the content. You can also analyze backlinks, and other factors affecting SEO.

What Makes SEOptimer Ranking Software Special
SEOptimer allows you to run a comprehensive website analysis and provides recommendations on what should be fixed. Unlike the majority of other tools, it also checks your social media connections.
SEOptimer Pricing
The simplest plan (DIY SEO) costs $19/month, whereas the most expensive (White Labeling and Embedding) – $59/month
SEOptimer: Free SEO Checker
Available
Features of BrightLocal Search Engine Optimization Platform
BrightLocal is an all-in-one marketing platform that comprises several tools, including Local SEO Tools, Reputation Manager, Citation Builder, Agency Lead Generator. Since in this overview we talk about best SEO trackers, let's focus on BrightLocal's SEO capabilities. This Google rank tracker displays your reviews, ranking, top positions and other details in one dashboard. You can also run local SEO audits based on local SEO metrics, analysis of on-site optimizations, domain authority, backlinks, and page-level error reporting.

What Makes BrightLocal Search Engine Optimization Platform Special
This rank tracker specializes in local SEO and integrates with social media to assess the social performance of web resources.
BrightLocal Pricing
For the most basic option (Single Business), you will be charged $29/month. The pricing of the enterprise plan is discussed individually.
BrightLocal: Free SEO Checker
14-day trial
33. Alexa SEO Site Checkup
Features of Alexa SEO Site Checkup Software
If you prefer using Amazon to cover all your needs, you should know that search engine optimization isn't an exception. Alexa SEO Site Checkup is a platform with a range of premium and free SEO tools. Here are just some of them: Audience Overlap, SEO Audit Tool, Competitor Keyword Matrix, Site Comparisons, Keyword Difficulty, On-Page SEO Checker, Competitor Backlinks Checker, Website Traffic Statistics, and more.

What Makes Alexa SEO Site Checkup Special
The variety of tools is really striking. Yet, to understand what features to use, you may need a bit more time than usual.
Alexa SEO Site Checkup Pricing
The pricing ranges from $19.99 to $799 per month.
Alexa SEO Site Checkup: Free SEO Checker
From 7 to 30 days of the trial period, depending on your plan
Features of Seomator Online SEO Audit Tool
This SEO audit software is suitable for detailed off-page and on-page SEO analysis (backlinks, internal links, SEO metrics, page speed, organic ranking, content quality), SEO monitoring, and domain authority comparison. The tool also allows subscribers to generate white-label SEO reports, which is very convenient if you need to present them later.

What Makes Seomator Online SEO Audit Tool Special
Seomator provides an embedded SEO widget that can be implemented on any website to collect leads and engage users.
Seomator Pricing
The price of the monthly subscription starts at $5/month. For unlimited use, you are going to pay $179/month.
Seomator: Free SEO Checker
Available
Features of DataForSEO API
DataForSEO provides APIs for custom SEO software and tailored data collection. With this solution, you can design search engine optimization software much easier to start helping others rank in Google's top positions. DataForSEO offers 7 APIs: Rank Tracker API, SERP API, Keyword Data API, Competitor Data API, On Page API, Keyword Finder API, Merchant API.
What Makes DataForSEO API Special
DataForSEO offers APIs and, therefore, is mainly used by search engine optimization companies and agencies. Consider this option if you are starting an SEO business.
DataForSEO Pricing
DataForSEO software provides a "pay-per-use" pricing model. Each task is charged separately from your credit.
DataForSEO: Free SEO Checker
You get a free credit after the registration.
Features of Raven SEO Tools
The creators of Raven position this software as a multifunctional toolbox for SEO and Google ranking analysis. It comprises 6 tools for search engine optimization and audit. The Keyword and Competitor Research feature relies on numerous sources of data to provide keyword ideas, domain authority metrics, and other details. Site audits evaluate 17 different factors to generate detailed SEO audits. Backlinks Analysis and Link Spy tracks backlinks on your website and competitor web pages. The other features provide broad rank tracking capabilities and reporting.

What Makes Raven SEO Tools Special
This toolbox combines several separate tools that cover the main needs of an SEO audit.
Raven Pricing
The cheapest subscription will cost you $79/month. The most expensive one – $399/month.
Raven Tools: Free SEO Checker
7-day trial
Features of iSpionage Competitor Site Analysis
As you may have already guessed from its name, iSpionage offers you to keep an eye on your competitors. By monitoring the search engine optimization strategies of competitor web pages, you can better understand what SEO techniques yield the best results. With iSpionage, you will be able to know the approximate budgets and PPC strategy of your key AdWords competitors, find effective keywords, improve CTR, and lower cost-per-click.

What Makes iSpionage Competitor Site Analysis Special
This competitor rank tracker has a strong focus on competitor analysis and monitoring.
iSpionage Pricing
The Starter plan costs $59/month. The enterprise plan is discussed on a case-by-case basis.
iSpionage: Free SEO Checker
Available
Features of AgencyAnalytics Reporting Platform
This software solution is designed primarily for digital marketers and small agencies. It comprises various kinds of reports which are 100% brandable. Besides, you can create a dedicated dashboard to give end-users access to important KPIs, positions, and updates. Google ranking tracker is just one of the numerous features available.

What Makes AgencyAnalytics Reporting Platform Special
In addition to SEO tracking, this marketing software provides other types of reporting, including email, review, social media, and call tracking. Besides, it integrates with more than 40 third-party SEO and marketing tools.
AgencyAnalytics Pricing
The most basic plan (Freelancer) costs $49/month, whereas the most advanced one (Enterprise) – $399/month.
AgencyAnalytics: Free SEO Checker
14-day trial period
Features of SE Ranking Competitor Analysis Software
The rank tracker shows real-time keyword positions in search engines. Ranking can be monitored both globally and locally, which is essential if you need to analyze local SEO. SE Ranking also shows data on organic and paid traffic, allows conducting keyword research, and provides keyword suggestions.

What Makes SE Ranking Competitor Analysis Software Special
The tool supports automated posting on social media.
SE Ranking Pricing
The pricing ranges from $39 to $189 per month.
SE Ranking: Free SEO Checker
14-day trial. There are also some options available without registration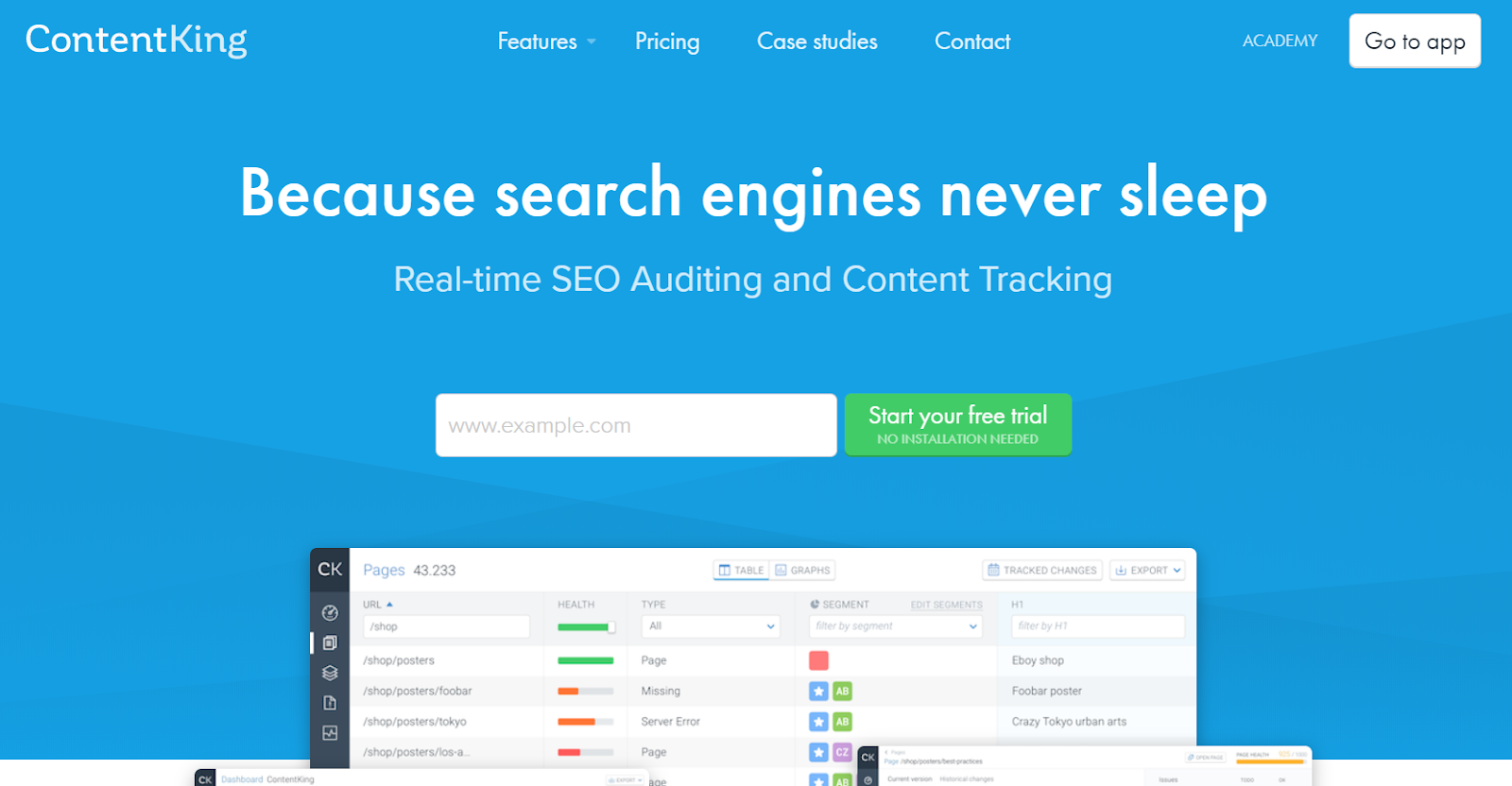 Features of ContentKing Online Content Checker
This SEO analyzer is designed for real-time SEO auditing and content tracking. You can see all important changes that happen with your content, including new, deleted, redirected pages, and instantly receive updates. To make tracking easier, ContentKing integrates with Slack, Google Analytics, and other third-party software tools.

What Makes ContentKing Online Content Checker Special
ContentKing sends real-time updates, which are very handy to keep track of the search engine optimization progress.
ContentKing Pricing
The pricing depends on the number of pages in your website and the selected plan. The cheapest option costs $39 and the most advanced one – $1209. This is also a custom enterprise plan.
ContentKing: Free SEO Checker
14-day trial
Features of Agency360 Online Reporting Platform
Agency360 is a reporting platform designed for agencies. Although SEO audits are just one of the features, this software still can significantly help you with search engine optimization. In particular, you can evaluate how your client's website ranks in Google, group keywords, and track competitors. In addition to this, Agency360 allows you to carry out an on-page SEO audit based on over 50 different parameters (online website speed, page usability, duplicate content, page ranking, etc).

What Makes Agency360 Online Reporting Platform Special
This SEO tracker has many additional functions an agency or marketer can use to build website promotion strategies.
Agency360 Pricing
For the most basic plan (Freelancer), you will need to pay $79/month. The most advanced subscription costs $549/month.
Agency360: Free SEO Checker
14-day trial
Summary
As you have probably understood from our selection of the Best SEO Tools and SEO Checkers, the choice is huge. So before making it, try to clearly formulate your needs and expectations. If you are an agency, you may need software with white-labeling and advanced reporting. A business owner who doesn't plan to run deep SEO audits should pay attention to multifunctional tools for website promotion.