If you run a website or online store, you need to know how your customers behave there. The number of placed orders, filled out forms, or support chats isn't enough to evaluate the real customer experience. You should also be able to view each significant action and move with the help of heatmaps.
Don't know what heatmap to choose? Read this article to discover more about the two most popular options – Hotjar and Crazy Egg. We will talk in more detail about the core functionality, consider expert opinions, and provide reviews.
| Key features / Builder | CrazyEgg | Hotjar |
| --- | --- | --- |
| Overall Rating | 4.5 | 4.7 |
| Value for Money | 4.1 | 4.5 |
| Ease of Use | 4.5 | 4.6 |
| Quality of Support | 3.85 | 4.25 |
| Ease of Setup | 4.2 | 4.4 |
| Ease of Doing Business With | 4.25 | 4.45 |
| Product Direction (% positive) | 3.2 | 4.2 |
| Websites Powered (Number) | 94 325 | 443 022 |
| Number of Review | 64 | 334 |
| Year Founded | 2005 | 2014 |
| Free Trial (Days) | yes (30) | yes (15) |
| Free Plan (Time) | no | yes (forever) |
| Number of Plans | 5 | 7 |
| Entry Level Price | $24 | free |
| Cheapest Plan (Monthly) | $24 | €99 |
| Most Popular Plan (Monthly) | $99 | €189 |
| Most expensive (Monthly) | $249 | €989 |
| Discounts per year | - | - |
| Heatmaps | yes | yes |
| Scrollmap | yes | yes |
| Scroll Depth | - | - |
| Multi-device support | yes | yes |
| Click data segmentation by type of traffic | yes | no |
| Analysis of dynamic elements | no | no |
| Data Segmentation by date | no | no |
| Mouse Movement | yes | yes |
| Text selection | no | no |
| Sequence of clicks | no | no |
| Confetti Reports | yes | no |
| List Report | yes | yes |
| Real-time data | no | no |
| Eye Tracking | yes | yes |
| Goal Tracking | no | - |
| A/B Testing | yes | no |
| Polls and Surveys | yes (Survey Monkey) | yes |
| Survey editor | no | yes |
| Multiple question types | no | yes |
| Cross-device surveys | no | yes |
| NPS (Net Promoter Score) | no | yes |
| Submission stats | no | yes |
| Session Recording | yes | yes |
| Recording filtering | yes | yes |
| Replay visitor sessions | yes | yes |
| Heatmaps and Recordings sharing | yes | yes |
| Conversion Funnels | no | yes |
| Conversion Segmentation by type of traffic | no | no |
| Conversion Segmentation by date | no | yes |
| Conversion Analysis Unique page views | no | no |
| Ability to integrate | yes | yes |
| IPs blocking | yes | yes |
| Customer Support | 4.5 | 4.1 |
| Email | yes | yes |
| Phone | no | no |
| Live Chat | yes | yes |
| Forum | yes | yes |
| Knowledge Base | yes | yes |
| Support Ticket | yes | yes |
| Training In Person | no | no |
| Training Live Online | yes | yes |
| Training Webinars | yes | yes |
| Training Documentation | yes | yes |
Generated by wpDataTables
We also recommend that you read the next articles:
What is Hotjar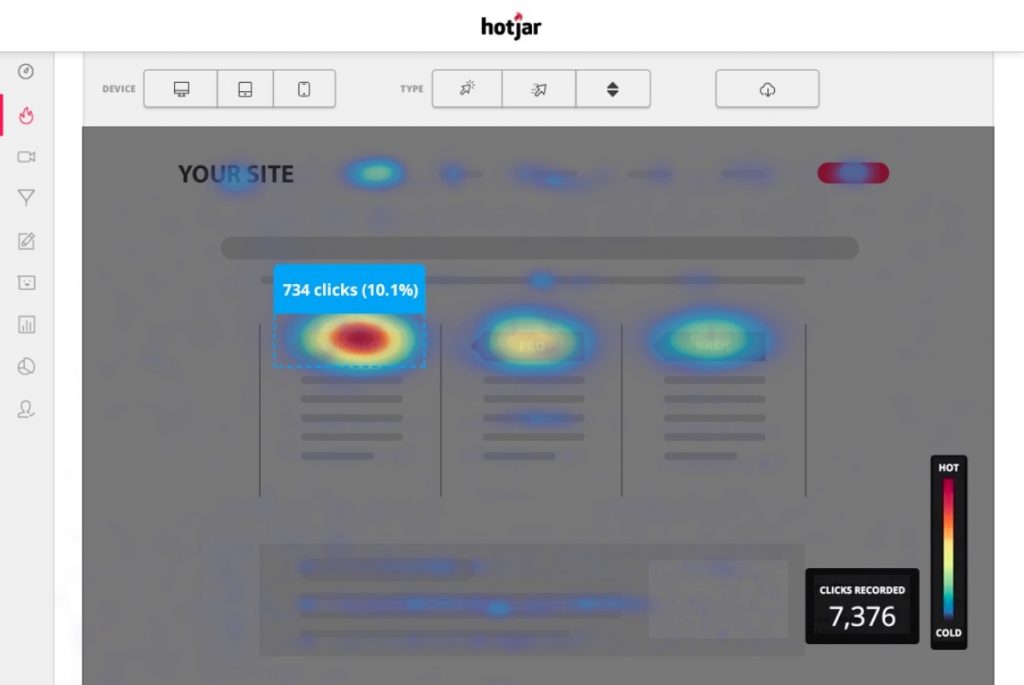 Hotjar is an online service for user analytics and feedback collection that is chosen by many companies worldwide, including IKEA, Panasonic, and Nintendo. This toolkit comprises different kinds of heatmaps, session recordings, incoming feedback, and surveys. Unlike Crazy Egg, Hotjar offers move heatmap reports that enable website owners to see where users move their mouse cursor. It also supports features available in other marketing tools, such as ClickTale, Qualaroo, and SurveyMonkey, that are missing in Crazy Egg.
What is Crazy Egg
Crazy Egg is a multi-functional tool founded by the renowned SEO expert Neil Patel that also offers heatmap reports. Just like Hotjar, Crazy Egg includes scrollmaps and supports collecting data on mobile devices. It also provides the Confetti report, a unique feature that shows which traffic sources generate most user interactions. The A/B testing supported in Crazy Egg enables users to see how design changes affect user behavior. Crazy Egg is known to be used by Dell, Optimizely, and Etsy.

Hotjar Functionality
Heatmaps that collect data on customer clicks, moves, scrolls, and other critical interactions. The heatmaps are downloadable and allow splitting data by device type
Visitors sessions for a more realistic picture of user behavior
Customizable surveys that directly collect feedback from visitors while people navigate your website. You can make them trigger-based to display polls once customers click a specific element or reach the necessary part of the page.
Instant visual feedback functionality that allows visitors to leave feedback directly on the website
Compatibility with mobile devices
Conversion funnel visualization
Motion heatmap reports that track how website visitors move their cursor
15-day trial for advanced plans and a basic plan forever
Crazy Egg Functionality
Heatmaps that collect the same data as Hotjar, including clicks, moves, and scrolls made by website visitors
Intuitive visitor recording feature that provides all details about the user navigation path on your website
Mobile device support to track differences in user behavior on different website versions
Page snapshots that help you track how users interact with the selected version of the page
A/B testing functionality that enables designers and UX/UI specialists to see how specific changes in website design affect user behavior
Confetti report that can segment user behavior data by traffic sources
Better compatibility with JavaScript libraries than Hotjar
30-day trial for all plans
Expert Opinion on Hotjar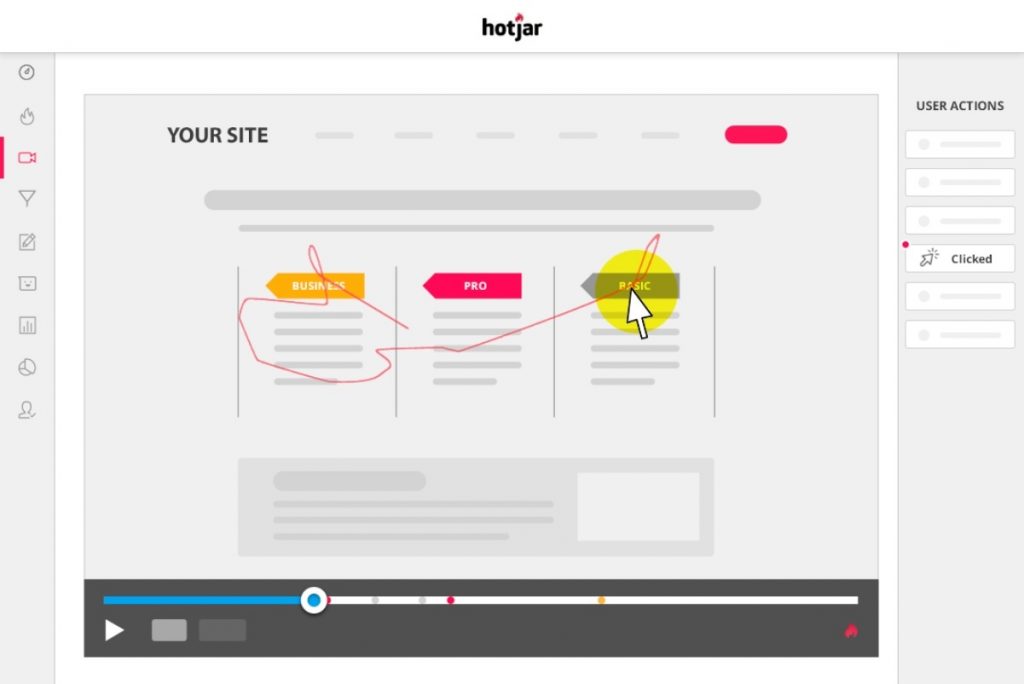 Hotjar has become one of the most prominent tools for website analytics for a reason. It's an intuitive website conversion toolkit with multiple built-in services supplied to customers once they subscribe. Hotjar has more basic functionality for web analytics beginners and advanced capabilities for agencies that provide analytics services on a commercial basis.
Hotjar mainly focuses on heatmapping solutions for click, scroll, and mouse hover tracking. Users can view color-based maps on website pages to determine what areas get the most attention and what are ignored. This helps them understand whether the existing design meets the expectations of website visitors and fine-tune it. Hotjar also provides user session recordings that can be used to supplement heatmapping data.
If you need to talk with your website visitors one-to-one, you can also leverage polls and surveys. Although they offer limited customization, a simple pop-up is usually enough to collect feedback.
Hotjar is slightly more expensive than its alternatives, so it may be too costly for occasional use. It's recommended for small businesses or UX/UI professionals working on website usability.
Expert Opinion on Crazy Egg
Crazy Egg is a cloud-based solution for website analysis and user behavior tracking. It offers standard heatmaps that record user clicks and scrolls. Since Crazy Egg supports both mobile and desktop devices, you will be able to evaluate behavioral trends across all website versions.
Crazy Egg is famous for its Confetti feature that segments user behavior data by traffic sources. It provides you with additional insight into how different demographics behave and what can be done to tailor the web resource to their needs. A/B testing is another thing that makes Crazy Egg stand out from the crowd. You can track the impact of design changes on behavioral metrics. This powerful feature is a real catch for web designers.
Thus, Crazy Egg is a preferable option if you need user behavior analytics and session recordings. Unlike many other web analytics and heatmapping tools, including Hotjar, it doesn't provide polls and surveys. Crazy Egg also doesn't display user behavior in real time. If you are ok with that, Crazy Egg may be a great choice.
Hotjar Reviews
Here are some reviews about Hotjar.
What do you like about Hotjar:
Before we started using Hotjar, we thought we had a pretty effective website with smooth user navigation. The only problem was an increasing bounce rate nobody could explain. That's why our team decided to test a free website analytics tool. Hotjar turned out to be a useful addition to our tech stack and after a 15-day trial, we switched to the Personal Plus plan.
I must say that the heatmaps provided by Hotjar are easy to read even if you've never used heatmapping software before. They helped us detect that a banner located on our homepage distracted users from the core content and made them leave too soon.
I like that Hotjar issues automatic reports you can later use to analyze the content and interface. With them, it's easy to detect problematic spots on your website and track the progress of website optimization. We loved it. Besides, the reports and heatmap data are easy-to-read, so there is almost no learning curve.
Hotjar has told us more about our customers than we've ever known. We've learned what elements they click the most often, how deep they scroll the website, and most importantly, why some of them leave.
They have recently implemented the User Attributes feature that allows you to use the facts about the tracked people for more precise segmentation. Just several years ago it was impossible. The fact that Hotjar constantly works to upgrade its services is a considerable advantage.
What would you improve:
Session recordings aren't really useful to watch user behavior in real time. We didn't need this feature much.
Although I really like this tool, I would probably improve their billing structure. It would be easier to pay for the whole year to get a discount instead of paying monthly.
We were disappointed to find out that Hotjar doesn't display data on customer behavior in real-time. Given the price of the tool, it should provide such functionality. Snapshots are great but they won't let you see what people are doing on the website right now.
Hotjar doesn't support direct login from Facebook or Google. Each time I use the tool, I have to recall my password (which I often fail to do). That's why social login would simplify my life a lot.
My dislike isn't related to the functionality of Hotjar. It's great. The only thing I hate is too pushy emails that offer you new paid updates every day.
Crazy Egg Reviews
Here are some reviews about Crazy Egg.
What do you like about Crazy Egg:
I was impressed with their helpdesk. After installing Crazy Egg, I've faced a technical issue that needed immediate assistance. The interaction with the support team was just amazing. They've been very patient with me and arranged a Zoom call to resolve my problem together. The functionality offered in the tool also seems quite good, so I already anticipate using it.
I love everything about Crazy Egg. The opportunity to map how people click our pages, what elements they skip, and how far they scroll has changed the way we do digital marketing. Now, after publishing new content or making design changes, we check the updated page using Crazy Egg. If the snapshot shows that something isn't working, we can shortly fix it. The tool is a good offer for its price.
Session recordings are my favorite. I like to view how people move around my website. This makes me feel in the shoes of the customer and helps to understand how to build customer relationships.
Their A/B testing is something every website analysis tool should have. Although it may be quite challenging at first, once you get used, split tests are amazing. As a UX/UI designer, I usually run tests before making any critical changes, and after that. This helps me make sure that the fresh updates benefit the website performance.
The tool is simple. My non-technical team members have no trouble using it. After a quick implementation and configuration, heatmap data is provided in an easy-to-read format. You just look at it and instantly see where website visitors are likely to click.
What would you improve:
They should polish the Page Camera extension used to manually capture the web pages. It would also be nice to view heatmaps in real-time.
The main drawback is that you're forced to set up snapshots manually. I mean that once users view a page, it's not automatically stored in the system unless you've previously set up tracking. It's a huge waste of time and something Crazy Egg definitely needs to pay attention to.
Report data is insufficient for us. A more detailed export to .csv would be nice.
Videos are not downloadable. They must enable users to download session recordings to view them anytime.
Crazy Egg is less robust than other enterprise CRO solutions. Yet it's also much cheaper, which probably explains more limited functionality.
Conclusion
Both of the compared tools are market leaders and have many proponents. They also share the majority of core features, including heatmap reports, scrollmaps, and session recordings. So choosing among these tools, you will need to pay attention to pricing and analyze add-ons.
In particular, HotJar has customizable surveys, which Crazy Egg doesn't have. On the flip side, Crazy Egg supports the unique Confetti report and A/B testing. So just make sure you know what you want before starting a paid plan. If you hesitate, test free versions offered by both tools to see how they work and find out which option meets your business needs best.