When it comes to website analytics, there are a lot of tools available to help you track and understand user behavior. The most popular among them are Hotjar and Crazy Egg. Both tools have unique benefits and distinctive features that make them an ideal choice for website analytics.
To help you decide which tool will be the best solution for your website, I intend to uncover the similarities and differences between Hotjar and Crazy Egg in this blog post. Here we go!😎
Introduction to Hotjar and Crazy Egg

Again, Hotjar and Crazy Egg are two of the most popular website analytics tools on the market. Their range of features and benefits makes them ideal website analytics solutions. Hotjar is a comprehensive analytics tool that offers heatmaps, recordings, polls, surveys, user feedback, and more. It also offers a range of customization options to tailor the data you collect to your specific needs. Crazy Egg is another popular analytics tool specializing in heatmaps and A/B testing. It also offers a range of features, such as scroll maps, overlay reports, and confetti reports.
I also recommend that you read the following articles:
They will help you better understand the functionality of Hotjar and pick up a suitable alternative for your business needs.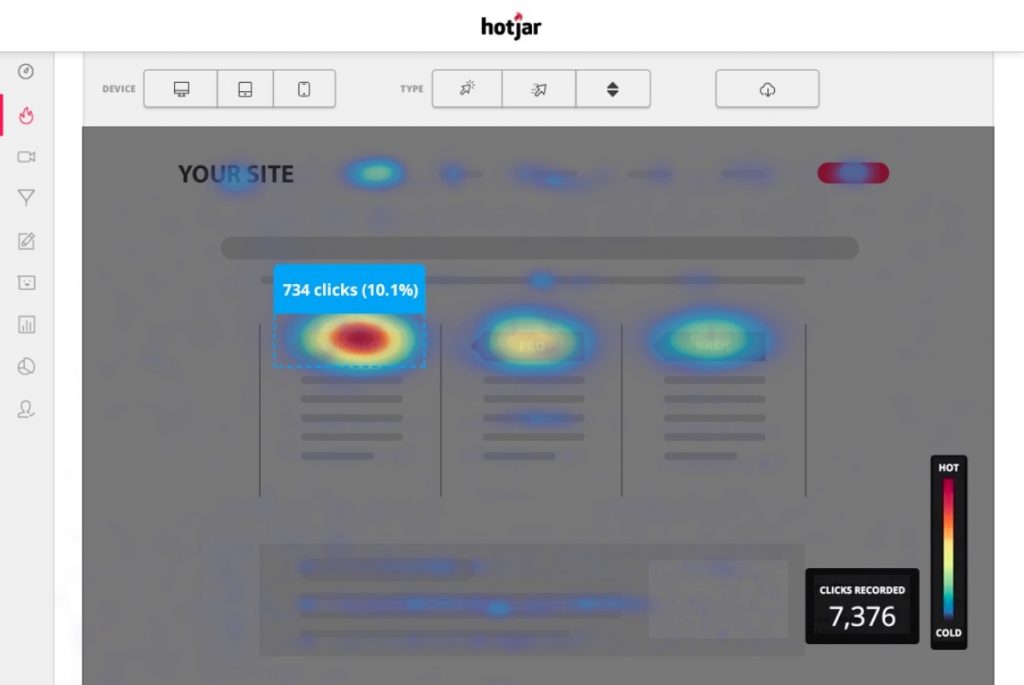 Hotjar is an online tool for user analytics and feedback collection chosen by many companies worldwide, including IKEA, Panasonic, and Nintendo. This toolkit comprises different kinds of heat maps and incoming feedback. Unlike Crazy Egg, Hotjar offers move heatmap reports that enable website owners to see where users move their mouse cursor. It also supports features available in other marketing tools, such as ClickTale, Qualaroo, and SurveyMonkey, which are missing in Crazy Egg.
Benefits of Hotjar
Hotjar is a comprehensive analytics tool offering various features and perks for its users. It perfectly suits even beginners since the tool is easy to set up and use. Moreover, with its wide range of customization options, you can tailor the data you collect to your specific business needs. Among the key functionality of Hotjar, you'll find insightful heatmaps, recordings, polls, surveys, user feedback, and more. Thus, you'll be able to watch how visitors navigate your website and interact with its elements. Accordingly, you'll gain valuable insights into your user behavior.
Hotjar also offers advanced features such as heatmap analysis, visitor segmentation, and conversion tracking. Using them allows you to accurately make more informed decisions based on the tracked user behavior. Hotjar also offers a range of integrations with popular third-party services, such as Google Analytics and Facebook Ads. This allows you to collect data from multiple sources and get a more comprehensive view of your website's user behavior.
Hotjar features:
Heatmaps, collecting data on customer clicks, moves, scrolls, and other critical interactions. The heatmaps are downloadable and allow splitting data by device type
Visitors' sessions, providing a more realistic picture of user behavior
Customizable surveys, directly collecting feedback from visitors while people navigate your website. You can make them trigger-based to display polls once customers click a specific element or reach the necessary part of the page
Instant visual feedback functionality, allowing visitors to leave feedback directly on the website
The main benefit you can get from the tool is a comprehensive picture of your website's user behavior and experience. You'll know how to improve your website's performance based on these insights.
Crazy Egg is a multi-functional tool founded by the renowned SEO expert Neil Patel that also offers heatmap reports. Just like Hotjar, Crazy Egg includes scroll maps and supports collecting data on mobile devices. It also provides the Confetti report, a unique feature that shows which traffic sources generate the most user interactions. In addition, the A/B testing supported in Crazy Egg enables users to see how design changes affect user behavior. Crazy Egg is known to be used by Dell, Optimizely, and Etsy.
Benefits of Crazy Egg
Another perfect solution to visualize user behavior on your website and gain valuable insights into the user experience is the Crazy Egg analytics tool. Its heatmaps provide a detailed view of how visitors interact with your website. And its A/B testing feature allows you to compare different page versions to see which one performs better. Apart from key features, heatmaps and A/B testing, it also offers scroll maps, overlay reports, and confetti reports. In addition, Crazy Egg provides customizable options so that any business can tailor the collected data to their specific needs.
Crazy Egg Functionality
Heatmaps that collect the same data as Hotjar, including clicks, moves, and scrolls made by website visitors
Intuitive visitor recording feature that provides all details about the user navigation path on your website
Mobile device support to track differences in user behavior on different website versions
Page snapshots that help you track how users interact with the selected version of the page
That's it for the functionality of Crazy Egg. It's a good competitor of Hotjar with its unique perks. Study them closely to decide which of the tools suits you better.
Expert Opinion on Hotjar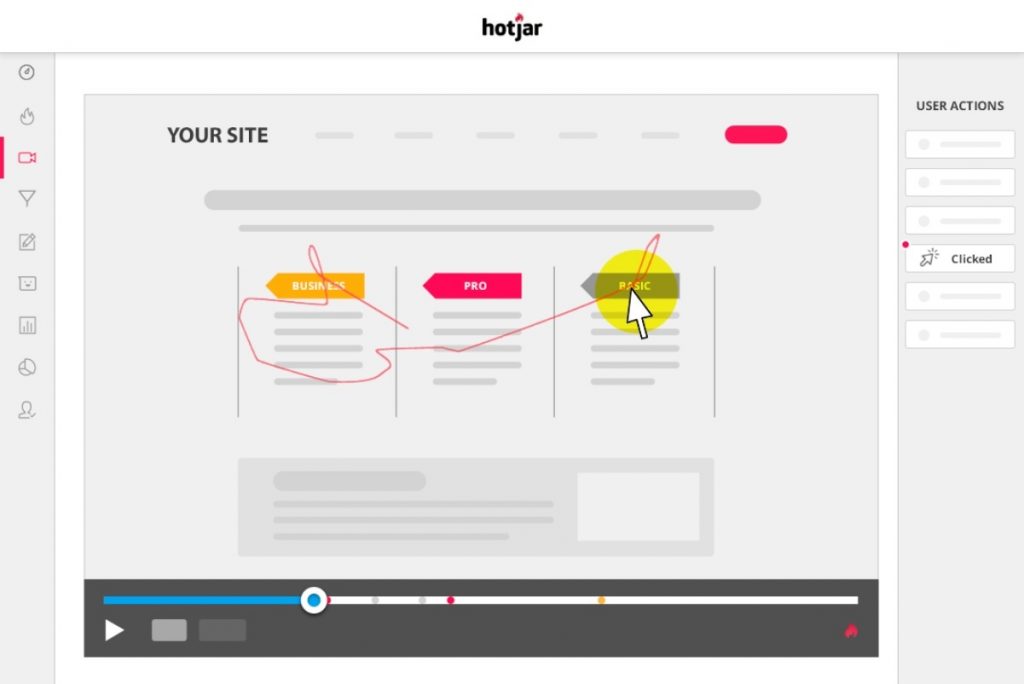 Hotjar has become one of the most prominent tools for website analytics for a reason. It's an intuitive website conversion toolkit with multiple built-in services supplied to customers once they subscribe. Hotjar has more basic functionality for web analytics beginners and advanced capabilities for agencies that provide analytics services on a commercial basis.
Hotjar focuses mainly on heatmapping solutions for click, scroll, and mouse hover tracking. In addition, users can view color-based maps on website pages to determine what areas get the most attention and what are ignored. It helps them understand whether the existing design meets the expectations of website visitors and fine-tune it. Hotjar also provides user session recordings that can be used to supplement heatmapping data.
Hotjar is slightly more expensive than its alternatives, so it may be too costly for occasional use. Nevertheless, it's recommended for small businesses or UX/UI professionals working on website usability.
Expert Opinion on Crazy Egg
Crazy Egg is a cloud-based solution for website analysis and user behavior tracking. It offers standard heatmaps that record user clicks and scrolls. In addition, since Crazy Egg supports mobile and desktop devices, you will be able to evaluate behavioral trends across all website versions.
Crazy Egg is famous for its Confetti feature that segments user behavior data by traffic sources. It provides additional insight into how different demographics behave and what can be done to tailor the web resource to their needs. A/B testing is another thing that makes Crazy Egg stand out from the crowd. You can track the impact of design changes on behavioral metrics. This powerful feature is a real catch for web designers.
Hotjar Reviews
On G2, you can find various reviews about Hotjar. Here are some of them.
What do you like best?

Hotjar is for you if you have your own E-Commerce store. Installation is a breeze and Hotjar has a simple dashboard. You can take a look at all your important metrics easily.

What do you dislike?

If you have a big eCommerce business with thousands of visitors a day, you will have to buy one of their business plans which will record a huge number of daily sessions. These business plans can go upwards of $1000/month & are quite expensive compared to some of their alternatives.

Abhishek D. — Digital Marketing Manager
What do you like best?

Hotjar is one of the best platforms I have been using since my career to watch user and customer behavior on a website or on a landing page.

What do you dislike?

Hotjar still does not provide its users with 100% realistic data. Sometimes the heatmaps provided can be flawed.

Saurav S. — Digital Marketing Specialist
What do you like best?

With the help of Hotjar, we track the Seller Activity easily. It helps us to track activity and find out the Issues faced by our clients.

What do you dislike?

It requires the paid plans, and sometimes we do not get the activity of that specific seller which we want to see or track. Other Than that it works seamlessly and efficiently.

Verified User in Non-Profit Organization Management
Now that we've seen how users perceive Hotjar's performance, it will be logical to explore some of its real cases.
Case Studies of Hotjar
Let's take a look at some organizations and how they used the tool.
Brand24 (the founder is Mike Sadowski) is a popular social listening platform. A huge bounce rate was noticed. It was obvious that it was caused by a promo code field. Users didn't really understand where they needed to click. So, the company designed a sleek sign-up form with no distractions, which was really helpful.
NerdCow is a premium web design agency (the founder is Tomasz Lisiecki). Several big problems were identified: poor search bar and problems with finding products. On-page graphics, a simplified search bar, and abandoned cart emails helped to cope with it.
It is an online marketplace for gyms and spas. Luke (a product lead) uses the tool to spot revenue-damaging bugs, survey every churned user, and be completely sure each new launch runs smoothly.
See? In practice, Hotjar looks even more powerful. This tool will surely improve your online business performance.
Crazy Egg Reviews
Now is the right time to look through some reviews of Crazy Egg. Here we go!
What do you like?

Crazy Egg thoroughly offers all the necessary tools to experiment around and then analyze the data. On top of that, they have the best support that are always responsive & helpful to say the least.

What do you dislike?

Lower pricing would be much appreciated, but then again, they are definitely in line with the completion & as said, it's definitely worth the buck.

Roberts L. — Co-Founder
What do you like?

The heat mapping is super easy to set up and analyze. It gives us exactly the information we are looking for.

What do you dislike?

Not really much of a downside. Doesn't have all of the bells and whistles that other solutions have but we didn't need those either.

Angie D. — Digital Marketing Manager
What do you like best?

It's great to look at the heat map to see where on your site users are interacting the most. It allows for useful data to improve the user experience and improve seo of the site.

What do you dislike?

I can't say I dislike anything about the tool! I like it a lot and recommend it to everyone!

Verified User in Marketing and Advertising
We see more strengths Crazy Egg's customers like about the tool than flaws they dislike. Let's examine some case studies now.
Case Studies of Crazy Egg
I would also like to add several case studies examples for you to understand better what can be achieved with the help of the tool.
Erica Bell, marketing manager at Miller and Smith (a homebuilder company), says the tool makes the work easier for her. An actionable plan that improved the website's usability was created with the help of the tool.
Wall Monkeys is an eCommerce organization (wall decals) that now understands customer behavior much better. With the help of A/B testing tools and heatmaps, this company has increased the conversion rate by about five hundred percent!
It is a social media management solution that helps to manage social media channels. Veronica Vebere (an inbound manager) says they save many hours per month with the help of the tool. The tool also helps them with individual session recordings, heatmap tracking, and snapshot reports of individual pages, which helps to attract more customers and make them stay.
These companies have already benefited from using Crazy Egg. It can also benefit you. Think about that.
Conclusion
Both of the compared tools are market leaders and have many proponents 😎 They share most core features, including heatmap reports, scroll maps, and session recordings. So choosing among these tools, you will need to pay attention to pricing and analyze add-ons.